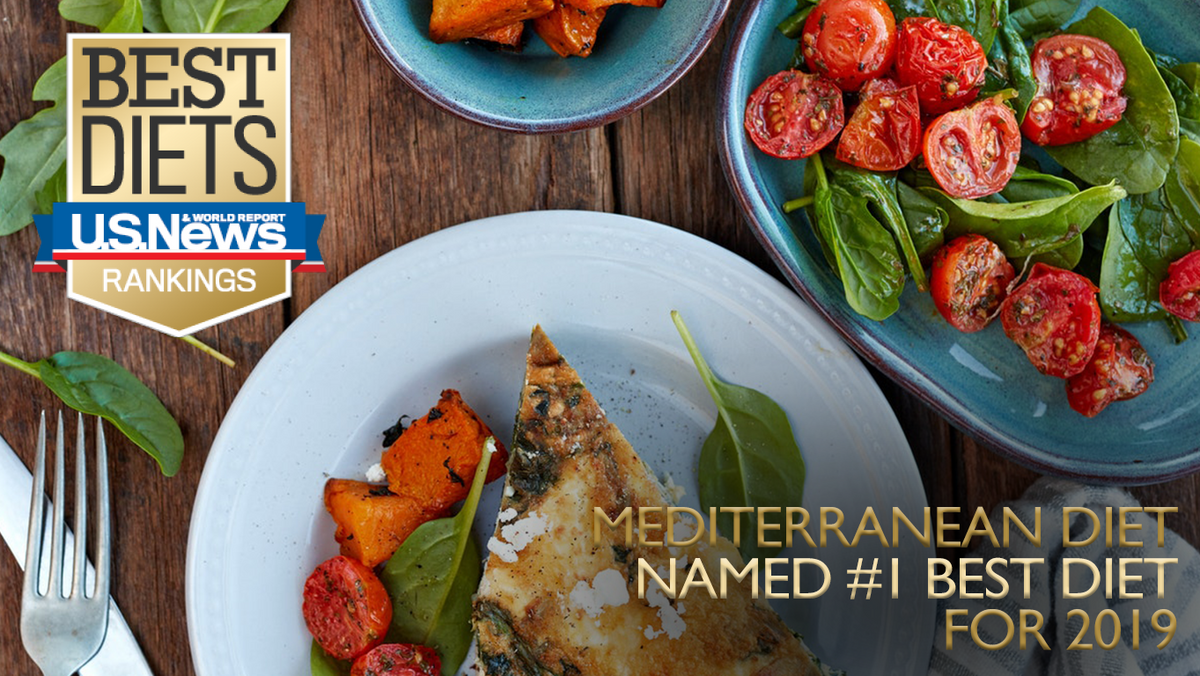 GOLD MEDAL: Mediterranean diet named No. 1 for 2019 and weight loss
When it comes to weight loss, for the first time from US. News & World Report 2019, the Mediterranean diet has won gold and topped the ranks as the NO. 1 BEST DIET. It also took out the No. 1 spot for best plant-based diet, best diet for diabetes and, thankfully, the easiest diet to follow. And, luckily The Doctor's Kitchen has officially launched our new Mediterranean menu which may be the closest thing to drinking from the fountain of youth.
So, just why is a Mediterranean diet the best for you and for weight loss?
Keep it Simple
The Mediterranean diet focuses on simple, plant-based cooking which makes it super-easy to follow (and stick with!) long term. It's a well-balanced eating plan that does not eliminate food groups and meals centre around fruits and vegetables as well as whole grains, beans, seeds, and nuts - as well as a happy dose of extra virgin olive oil. Other fats such as butter are consumed rarely, if at all; while meat is used simply to flavour and enhance a dish. 
History of Success
The Mediterranean diet wasn't built as a weight loss plan, but as a style of eating that evolved naturally over centuries; based on the traditional foods eaten in the Mediterranean.
Doc Fact: Two of the five Blue Zones - areas where people live longer and have lower rates of disease - are located in the Mediterranean - and are known for having some of the lowest rates of heart disease and cancer worldwide. 
Step Into Health
The Mediterranean diet is rich in plant-based protein which is believed to help keep your blood sugar levels stable (especially those with Type II Diabetes) and also keep you fuller for longer, thus keeping you away from overeating which is one major reason for obesity. Researchers also found benefits to heart health; decreasing the risk of heart disease by lowering levels of 'bad' cholesterol, and reducing mortality from cardiovascular conditions. It has also been credited with a lower likelihood of certain cancers and conditions like Parkinson's and Alzheimers.
Doc Fact: On average people eat 9 servings of fruits and vegetables a day on the Mediterranean diet.
More Than A Diet, It's A Lifestyle
Embracing a Mediterranean means more than just overhauling your health. It also encourages eating with friends and family, socialising over meals, mindfully eating your food, and engaging in mindful movement and exercise for a complete healthy lifestyle.
You be the Judge
Don't just take our word for it - you can try it with the Doc. That's right, The Doctor's Kitchen Australia has launched a Mediterranean menu which will help drop your fat and improve your overall health. In fact, we are the first in Australia to offer a complete Mediterranean medical weight loss meals along with a complete Mediterranean menu for nutritionally balanced Clean Eating Meals and diverse Family Dinners. Plus, all of our meals have been created by an executive chef, accredited dietician, and nutritionist!
Doc Fact: All of our meal plans are based around the principles of a Mediterranean diet.
 You can read about our specific success stories including of Mark Scholz (lost 28.5kg, lost 15% body fat, and reversed his sleep apnea), Abby Coleman, HIT105FM (who lost over 5% body fat), Bianca Dye, 97.3FM, Gary Fairman (who lost 6% body fat, lost 10 kgs and shaved 20 years off his biological age), Bianca Nicholson (lost 4kgs), Jody Wright, and Kelly, are just a few of stories which highlight the significant 'body fat loss' and incredible improvements to health achieved with the Doc's weight loss meals under a Doctor's guidance.
Our Doctors use your individual biometrics and body composition results using the latest advanced bio-electrical impedance analysis which provides the highest level of clinical accuracy to calorie and portion control our medical weight loss meals to you. Our Doctors can personalise our nutritionally balanced meals for all diet and lifestyle choices; including complete dairy and gluten-free, vegan, vegetarian and pescatarian and Mediterranean options.
Book in one of our Doctors here to start now.  
Our Doctors service all areas of Queensland including Brisbane, Gold Coast, Sunshine Coast, Toowoomba, Ipswich, Redlands, for weight loss, and fat loss.