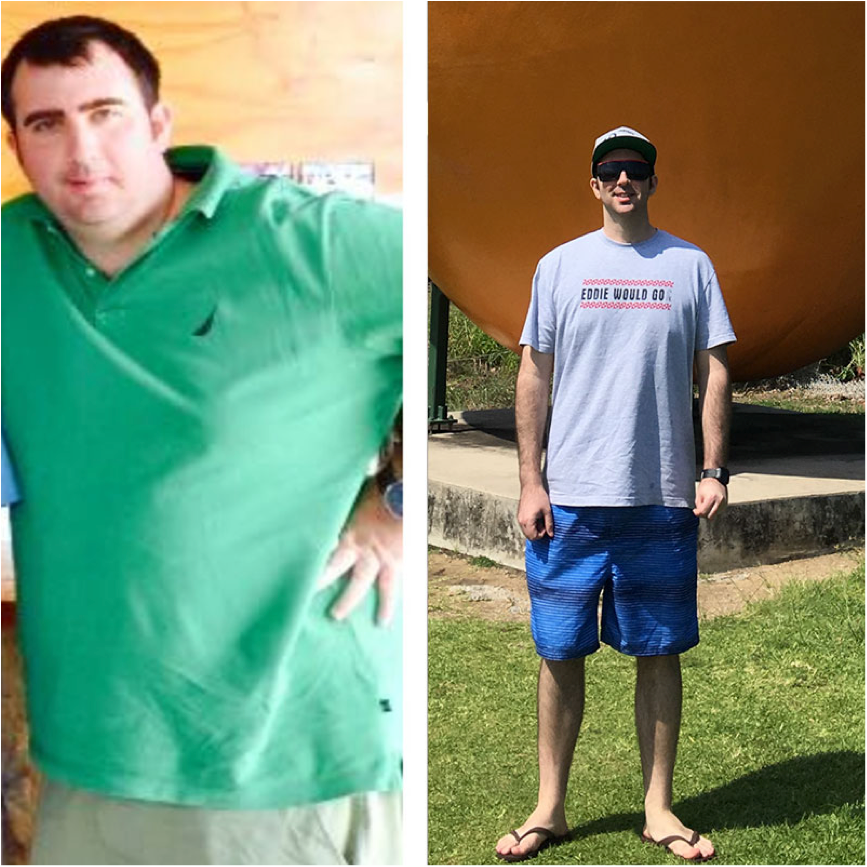 Mark Scholz lost an incredible 28.5kg, no longer has sleep apnoea and now has a biological age of 21. He achieved this incredible weight-loss-transformation using the Brisbane-based calorie controlled weight loss meals by The Doctor's Kitchen.
Before: 112.6kg | After: 84.1kg
In 2016, Mark was pushing close to 113 kilos and suffered from sleep apnoea. He had to use a CPAP machine every night to prevent waking up in a panic, gasping for breath. A year on, Mark sleeps soundly without having to rely on machinery thanks to his weight-loss-transformation with The Doctor's Kitchen.
The Doctor's Kitchen is made up of real doctors who offer a range of menus that are portion controlled, nutritionally complete and individually designed to assist in weight loss and health management.
In March 2016, Mark began the Doc's 5 Day Healthy Balance menu, consuming 1200 calories a day and attending fortnightly appointments with the Doc, Phillip Wuth to track his progress. This ongoing support and healthy meal inspiration allowed Mark to put into practice what he was seeing, eating and living, and he eventually began preparing his own healthy meals at home.
"The Doctor's Kitchen is not intended to be a long-term meal replacement plan," Dr Wuth said. "It is intended to be a short- to medium-term educational service with professional guidance so that people can start to live, eat and experience appropriate portion-controlled and nutritionally complete food on a daily basis.
"The purpose of the 5 day weight loss meals is to have you do it on your own, so that when you've achieved your goals, you can continue to maintain those results because you've been doing it from the beginning," Dr Wuth said.
Mark said the support and guidance of the Doc was the key to his weight-loss-transformation.
"Dr Wuth would explain the changes that were happening to my body each week, encourage me to keep going, and be blunt with me when I needed it," Mark said.
"Having the backing of a doctor I couldn't really go wrong."
In addition to weight loss and the reversal of his sleep apnoea, Mark also reduced his body fat by a staggering 14.9% and took his biological age down from 43 to 21.
Mark found out about The Doctor's Kitchen when he heard Abby Coleman, Hit105's breakfast radio host discussing her weight-loss-transformation with the Doc.
Abby has been loving the Doc's dairy free meals for over a year and has seen some amazing results.
Dr Wuth established The Doctor's Kitchen after years of treating diseases caused by poor lifestyle choices.
"Here at The Doctor's Kitchen we give people real food for their real lives and encourage them from their very first day to make modifications to their lifestyle for long-term, sustainable change," Dr Wuth said.
"The Doctor's Kitchen is unique in that we accommodate many intolerances that can be tailored to individual requirements. We also offer a uniquely medical program that encourages people to change their lifestyle".
The Doctor's Kitchen offers six different menus including dairy free, pescatarian, gluten free, vegetarian and vegan options for just $10 per meal.
Mark Scholz described his experience as different from other weight loss programs because of the added doctor support.
"Having a doctor that you can meet with face-to-face makes a major difference," Mark said. "I don't believe online advice is enough when it comes to making and maintaining health and lifestyle changes.
"Plus the food is way better than anything else out there."
The Doctor's Kitchen believes that food is medicine, which is why all of their dishes are preservative free and have no artificial ingredients, colours or flavours. Their food is based on a rainbow of vegetables, wholegrains, gluten free grains, locally sourced meat and fish, plant protein, heart healthy fats and lacto fermented foods.
Mark's favourite dinners on the Doc's Healthy Balance menu, which is a plant-based omnivorous diet complemented with the goodness of wholegrains, legumes and nutrient-dense animal protein, are the Doc's Herb Crusted Chicken Breast with Pumpkin and Veggies, and separately the Doc's Mediterranean Barramundi and Herbed Potatoes, pictured below.
If you're ready to start losing weight to help improve your overall health and wellbeing for the long term, or for more information about The Doctor's Kitchen or the Doc's weight loss meals, head to the Doc's website or email info@thedoctorskitchen.com.au.
The post Weight-loss-transformation: How this Brisbane man lost 28.5kg and cured his sleep apnoea appeared first on The Doctor's Kitchen Australia.