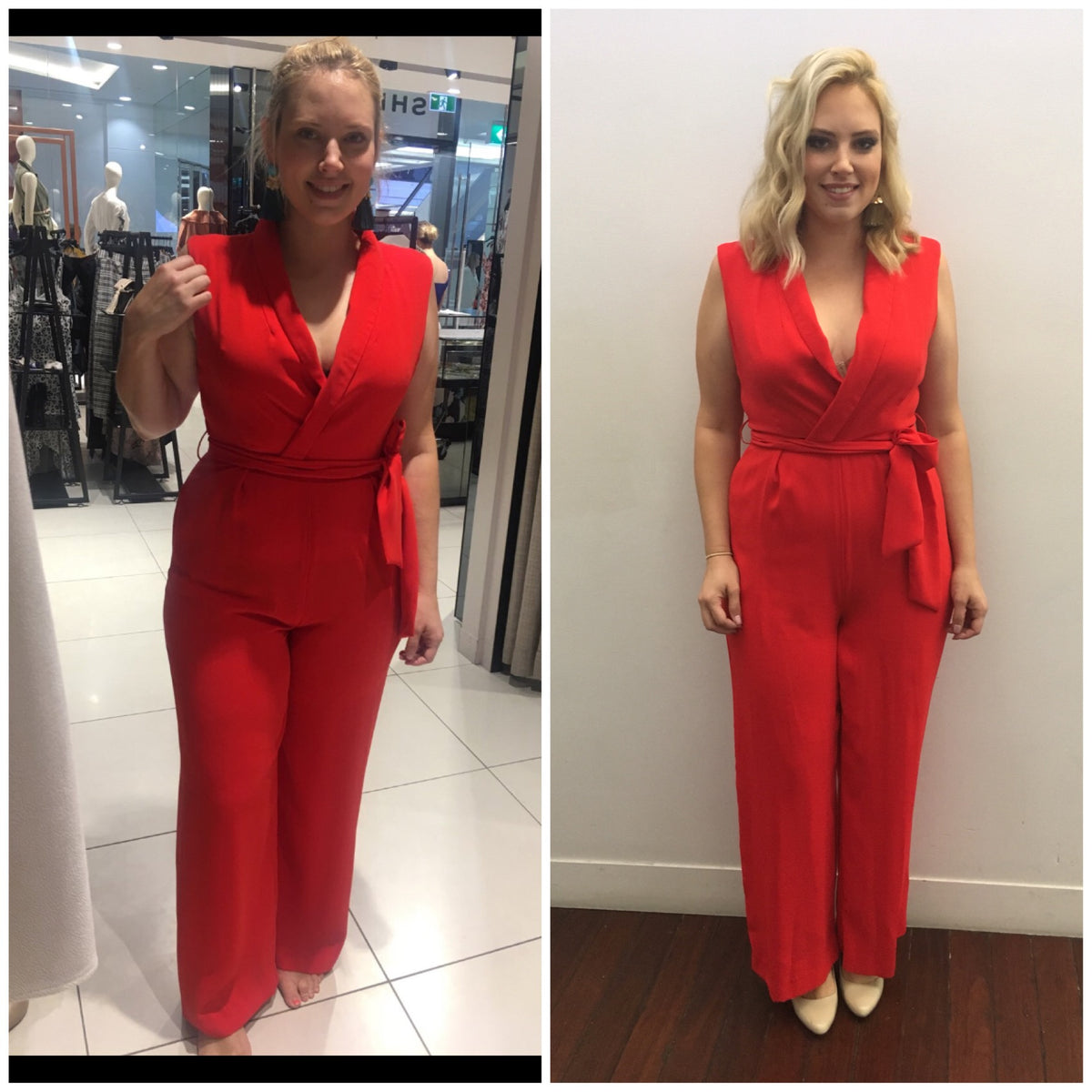 After gaining weight during three pregnancies Bianca craved her pre-pregnancy body confidence. The Doctor's Kitchen Australia partnered with our friends Stav, Abby & Matt at Hit105FM, as well as Go Health Clubs, Indooroopilly Shopping Centre, and the ever stylish Individual Style 101 to give Bianca a refreshing new look… from the inside and out with Brisbane based the Doc's medically prescribed weight loss meals designed for fat loss and metabolic health.
Before 4 weeks: 90.3kg
After 4 weeks: 87.4kg
Bianca's Goals 
As a busy mum of three young kids, Bianca's goal at the beginning of her journey was to be able to fit into a size 12 blaring red jumpsuit that she had purchased for her friend's wedding. When she saw the transformation challenge run through HIT105FM she thought, "I want to do this"! Bianca had tried everything to lose weight.
Bianca's Weight Loss Transformation with the Doc
After Bianca's initial consult with Dr Wuth, she started on breakfast, lunch and dinner at 1200 calories per day from the Doc's Healthy Balance meal plan. "I thought it would maybe take about 8 weeks to do this however I lost 4.9kg in 4 weeks and felt amazing!!!! I lost centimetres from everywhere! Even my arms!", Bianca said.
The personalised approach of the Doctors is to help drop body fat rather than achieve a reduction in total body mass. Dr Phillip Wuth, CEO and founder of The Doctor's Kitchen Australia explained that, "we want people healthier, not lighter necessarily which is why it is important in understanding an individual's key biometrics (body fat %, and muscle mass) when they begin and to monitor what they are losing over time to ensure successful long term weight loss.
A key factor to successful weight loss is ensuring that you are eating the right food and the right amounts of it. Over 4 weeks, Bianca, "stuck to the meals Dr Wuth arranged for me and walked 30 mins every day and the weight fell off".
Bianca also followed up with Dr Wuth every week to help ensure that she stayed on track to losing her fat and was not compromising her muscle or metabolic health. "I think going in each week to see Dr Wuth and be weighed, measured and seeing the results was really helpful as well and very motivating", Bianca said. Fortnightly check ins with your Doctor will ensure that you're on the right calorie controlled meal plan to help burn maximal amounts of fat, and improve your metabolism without compromising your lean muscle.
Irrespective of whether you're on the journey to weight loss, often the most important aspect of food is overlooked – the nutrients. After 4 weeks, Bianca said that "the thing she liked most was the beautiful fresh food that is full of flavour. The Doc's weight loss meals are especially created using nutrient dense foods that help nourish your body using seasonal fresh fruit, vegetables and wholefoods. "I never felt hungry or unsatisfied and the variety is also fantastic! I felt like I never ate the same thing twice. As a busy working Mum of three children half the battle is finding time to prepare meals and it's so convenient having it all ready to go each day", she said.
Bianca has successfully managed to keep the weight off by both continuing on the weight loss meals as well as regular exercise. Since starting the Doc's weight loss "I feel so much healthier", Bianca explained. "I'm not only lighter and fitter but I feel healthier. I have so much energy now compared to before and my skin has cleared up and I feel great", she said.
Rather than tape measures and ordinary scales, our Doctors use your individual biometrics via the latest advanced bio-electrical impedance analysis which provides the highest level of clinical accuracy to calorie and portion control the Doc's weight loss meals to you.
Make yourself the priority
Bianca isn't the Doc's only health success story. Fellow Brisbane mum Jody and Casey, also took our makeover challenge. While Gary lost 10 kilos and shaved 20 years off his biological age, Mark, and Kelly have also seen incredible weight loss transformations; with a combined weight loss of 48.3 kg's! Hit105FM's Abby Coleman also took the plunge and has seen significant reductions in body fat! Our Doctors have also assisted patients in the resolution of Type 2 diabetes, impaired glucose intolerance, and improvements in hypertension, lipid profiles, lean muscle mass and metabolic syndrome.
The Doctor's Kitchen provides naturally healthy and nutritionally balanced meals for all diet and lifestyle choices; including complete dairy and gluten-free, vegan, vegetarian and pescatarian options. We want to meet your body's needs with our portion and calorie-controlled weight loss meals; that focus on achieving and maintaining long-term good health. Head to the Doc's website or email us at info@thedoctorskitchen.com.au 
Our Doctors service all Brisbane, Gold Coast, Sunshine Coast, Toowoomba and Ipswich areas.