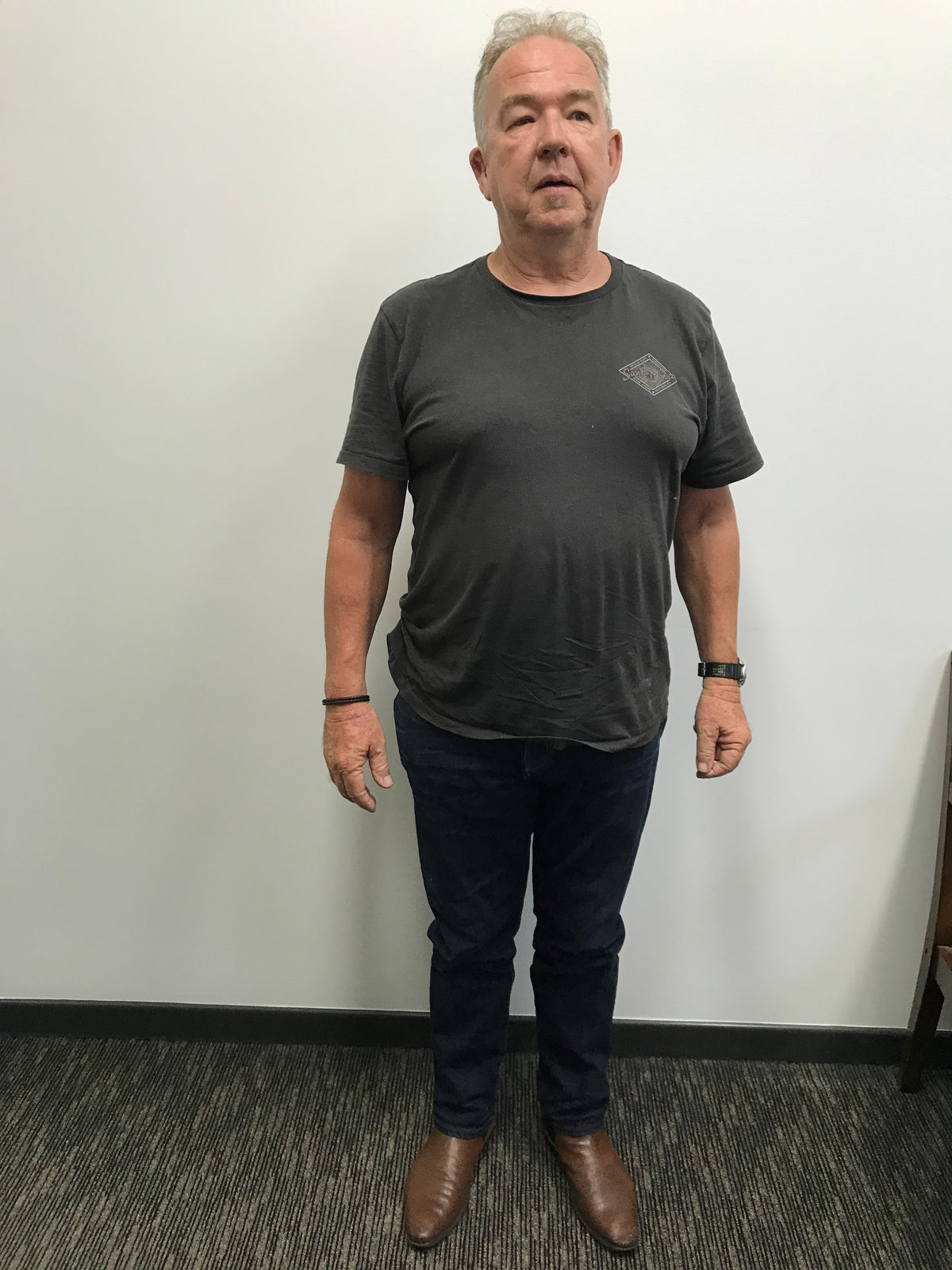 The Doctor's Kitchen has a new 97.3FM recruit! Last year we put the spotlight on Bianca Dye - morning radio host and long time supporter of the Doc. After starting on the Doc's Gluten Free menu Bianca was able to restart her relationship with food and lead a more positive lifestyle - one that she wanted to pass on to her 97.3FM co-host, Bob Gallagher, who gladly took up the challenge!
Bob Gallagher, before his three week medical weight loss transformation with the Doc!
BEFORE (3 WEEKS):  103 KGS
AFTER (3 WEEKS): 100 KGS
After seeing Bianca's results, Bob lost 3 kgs in 3 weeks and his goal was to target that dreaded visceral fat - the deep layer of fat that surrounds our internal organs and plays a large role in our overall health and wellness.
Rather than tape measures and ordinary scales, our Doctors use your individual biometrics results using the latest advanced bio-electrical impedance analysis with the highest level of clinical accuracy to calorie and portion control our medical meals to you.
After an initial consult with Dr Phillip Wuth, a GP, at The Carina Medical & Specialist Centre, Bob was recommended to begin on 1500 calories per day from the Doc's Healthy Balance Menu and follow with up with a healthy dose of Doc advice every week in order to reach his health goals - and continue to maintain them in the long term. Take a look at Bob's menu each day here. On 1500 calories, Bob received breakfast, lunch, dinner and snacks for 3 weeks for 5 days and on the two days without the Doc's meals, Bob put into practice what he was seeing, eating and living.
Bob enjoyed the Doc's Smoked Salmon, Spinach and Caper Omelette for breakfast from the Healthy Balance which is low carb and packed with protein to help keep you feeling fuller for longer.
Our Doctors use these medical meals as a tool to help drive healthier eating patterns to change behaviours so that you can maintain your fat loss and the healthy habits beyond the program. Doing it on your own for at least 2 days a week has significantly contributed to the success of our patients losing the fat and keeping it off in the long term.
Bob says, "the Doc program and weight machine have shown me that we need to maintain muscle and be aware of our calorie intake to lose or maintain weight".
Maintaining your muscle is vital for fat loss because as your lean muscle mass increases, the rate at which you burn energy (calories) increases your basal metabolic rate which means that you can be burning more calories at rest.
Bob has also experienced an increased awareness of food intake and consciously making better diet decisions for his health.
"You can't just pretend that wine and cheese don't make a difference", Bob says, "and now I read the nutritional information on any non-Doc food".
This awareness has already paid off - Bob has noted a significant increase in his day-to-day energy. Bob lost about 3 kgs in 3 weeks. However, he says the best thing about The Doctor's Kitchen is the food. "The food is terrific, filling, nutritious, and convenient - especially evening meals. No more cooking!" A reality that comes highly recommended to any person looking to kick start a campaign of fitness and fat loss!
Bob and Bianca aren't the only success stories! Fellow Brisbane mums, Bianca Nicholson (lost 4kgs), Jody Wright, and Casey (lost 7kgs) also adopted the Doc's lifestyle. You can also read about Gary Fairman (who lost 6% body fat, lost 10 kgs and shaved 20 years off his biological age), and Mark Scholz's (lost 28.5kg, lost 15% body fat, and reversed his sleep apnea) incredible weight loss transformations.
These stories highlight the significant 'body fat loss' and incredible improvements to health achieved with the Doc's medical weight loss meals under a Doctor's guidance.
The Doctor's Kitchen Australia is Australia's only Doctor prescribed weight loss meals for fat loss and metabolic health which are recommended by a Doctor, uniquely and exclusively available through a Doctor and then monitored by the doctor through regular follow up appointments.
Our Doctor prescribed medical weight loss meals are naturally healthy and nutritionally balanced for all diet and lifestyle choices; including complete dairy and gluten-free, vegan, vegetarian, pescatarian and Mediterranean menu options. We want to meet your body's needs with our portion and calorie-controlled weight loss meals that focus on achieving long-term good health.
Book in with a Doctor now to get started or email us at info@thedoctorskitchen.com.au.
We service most of suburban Queensland including Brisbane, Gold Coast, Sunshine Coast, Toowoomba and Ipswich areas, Redland Bay, Wynnum West, Upper Coomera, Capalaba, Chermside, Coomera, Manly, Upper Coomera, Greenbank, Helensvale, Jimboomba, North Maclean, Rochedale South, Rothwell, Victoria Point, Hamilton, Auchenflower, Alexandra Hills, Carina, Carindale, Lutwyche, The Gap, Walton Bridge.