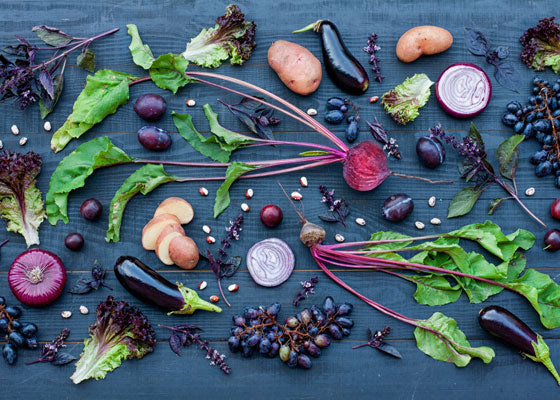 Our Docs love the change of season. Synchronising your diet with the seasons is beneficial for our long term health + wellbeing. Eating-seasonally means building meals around foods that have just been harvested. Our Docs believe that food is medicine and there are many benefits of why-eating-seasonally-is-better-for-you-and-your-wallet. Perhaps the most important benefit is that you'll enjoy fresh produce that has been recently harvested so their nutrient content and phyto-chemicals should not be lost. This helps to provide our bodies with the full spectrum of essential nutrients needed for health + vitality.
Here are the Doc's top 5 reasons why we prefer to eat this way:
1. Nutrient content: Foods that are available out of season have generally been stored for longer periods. Certain nutrients like vitamin C and cell-protecting phyto-chemicals are particularly susceptible to losses from prolonged storage and transportation. So the best produce is the freshest. Produce that has been naturally ripened on the vine or tree and harvested at the right time it will have much more flavour and nutritional value.
2. Enjoy a wider variety of foods: Building dishes with what's in season will help you get a broader variety of foods in your diet. Eating a variety of foods helps provide our bodies with the full spectrum of essential nutrients needed for health and vitality and will also help you enjoy a more well-rounded and balanced diet. Our Docs love nourishing our bodies with warm foods when the weather gets a little colder, making delicious soups or curries enriched with minerals and anti-inflammatory nutrients.
3. Taste: It's pretty hard to argue with this point. Foods that are grown and picked when they naturally should be are fresher and contain just the right balance of flavour producing chemicals and nutrients to taste absolutely delicious.
4. Save money: Eating fruits and vegetables that are in season will also help you save money on weekly grocery bills. When you buy what's in season,  you buy produce that's at the peak of its supply, it generally costs less to harvest and get to your supermarket or local grocer.
5. Supporting local farmers: If you buy locally, you'll have a better chance at getting foods that are seasonal, fresh, and support local farmers and businesses in your community. Here at The Doctor's Kitchen Australia we do our very best to ensure that our dishes are created from ingredients that are sourced locally.
We, at the Doctors Kitchen believe that food is medicine, and what you eat significantly affects the process of your lifestyle change. Winter vegetables offer comfort and are perfect for hot meals, healthy stews and soups all perfect warming meals throughout the colder months. Whereas spring being the abundance of leafy greens help us alkalize and detox.
The Doc's menus next week is filled with fresh, local and organic produce that will help nourish the body and promote health and immunity.
Here's some vegetables that are in season in South East Queensland this Spring:
Beetroot: Beetroot is also one of the richest dietary sources of antioxidants and naturally occurring nitrates. The Doc's Lamb shank, Sweet Potato Mash & Roast Beetroot is a purely delicious dinner that's created using fresh produce and packed with antioxidants and anti-inflammatory help support the body.
Pumpkin: Our Docs love pumpkin because it's rich in antioxidants that help fight stress and boost the immune system. Our chefs incorporate a variety of pumpkin across our various menus including the Doc's Pesto Mushroom, Spinach, Roast Tomato & Pumpkin which is naturally vegan and gluten free.
Spinach: These leafy greens are a great source of vitamins, minerals and fibre. The darker the leaves the richer in nutrients. Spinach is low in fat and even lower in cholesterol, high in niacin and zinc, as well as protein, vitamins A, C, E and K. The Doc's Lamb Kofta & Roast Capsicum Dolma is purely gluten and dairy free and incorporates a range of fresh and raw Spring produce including spinach.
Green beans

The Doctor's Kitchen offers a nutritionally complete vegan, pescatarian and vegetarian menus and one of our absolute favourite dishes, is the Doc's Cashew & Sesame Sweet Potato Noodles which is loaded with fresh spring vegetables. Green beans offer a very high fibre content, and also provides some of your daily protein requirements. They also act as an easy source for acquiring vitamins like A, C, K, B6, and folic acid.
Food is medicine. The Doc's menus are filled with fresh, local and organic produce that will help nourish the body and promote health and immunity.
If you're ready to nourish your body with wholesome, purely delicious + full of goodness foods head to the website today to take a look at the Doc's  nutritionally complete range of  gluten-free-meals, dairy-free-meals, pescatarian-meals, vegetarian-meals, vegan-meals or healthy-balance-meals.
And, if you're ready to lose fat for good with the Doc's healthy weight loss meals – book in now! Just $10 a meal.
The Doctor's Kitchen and our doctors service all Brisbane, Gold Coast, Sunshine Coast, and Toowoomba areas.
The post Why-eating-seasonally-is-better-for-you-and-your-wallet appeared first on The Doctor's Kitchen Australia.