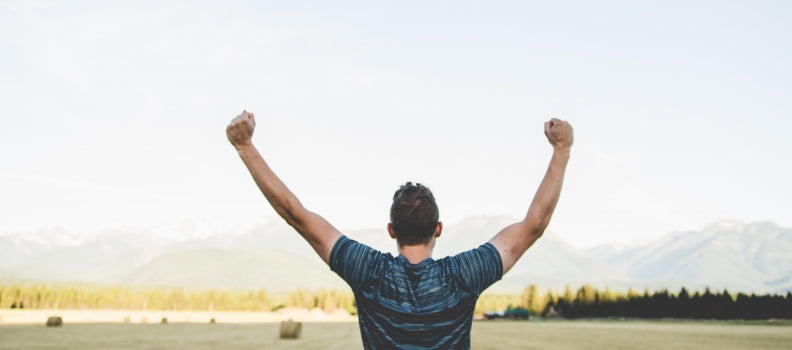 It's official. Winter has come and gone, and Spring has arrived in its place; bringing with it warm weather, beautiful flowers, and the age-old tradition of spring-cleaning. While the winter months see homes coated in a layer of dust and grime, it can have a similar affect on our bodies. The extra layers of clothing and calories consumed means by the time Spring arrives we aren't looking, or feeling, our best. The Doc has compiled these top ways to help you spring clean your health so that you can eat-better-and-feel-good.
Forget the Fad
A fad diet (read: bad diet) is one that promises a 'quick fix' to common health and weight struggles. You know the ones – highly restricted, celebrity endorsed and with no scientific backing behind them.   They may provide short-term results but they are difficult to sustain and can often create more health problems then they solve by depriving you essential nutrients. Fad diets also affect your brain, hormones, and metabolism with your brain becoming overly responsive to food, making it look more appetizing, and hard to resist. While hormones that make you feel full, decrease and your metabolism slows down and stores excess calories as fat. But it is possible to achieve a healthy weight by fueling your body with exactly what it needs – that includes protein, carbohydrates, and fats and a lifestyle of healthy habits, exercise, and things you enjoy.
Shop Seasonally
Eating in line with what's in season has a myriad of benefits! Fresh produce holds a higher nutrition content than their out-of-season counterparts, which are typically stored for longer periods. Shopping seasonally will also be kind to your wallet as in-season produce is at the peak of its supply, costing less to harvest and transport to local suppliers. Plus, fresh flavour is much more enjoyable. The Doctor's Kitchen meals make use of seasonal-produce to provide you with the freshest natural produce, packed with nutrients, and preservative free! Check out last week's blog for more seasonal shopping tips from The Doc!
Check Yourself Out, And Check in With The Doc
A regular check up with your doctor is part of a great health regime. When you join The Doctor's Kitchen you get exclusive access to our team of doctors who will help you through sustainable, healthy lifestyle changes. A one-on-one experience allows them to understand you, your weight goals, and your dietary requirements to craft a personalised program that will put you on the path to a healthier, lighter future.
Talk to one of our Docs on whether you need a colonoscopy, a bone mineral density screening after menopause, a PAP test, mammograms, heart check or blood checks. It could save your life.
Fresh Air is the Best Medicine
The old adage is true! Spending time in nature does wonders for your health both mental and physical. By spending just 15 minutes outside everyday your Vitamin D levels increase. This instantly boosts your mood, making you feel less stressed and helping out your immune and nervous systems. Vitamin D and natural sunlight also help you to sleep better at night. While switching urban views for trees, rivers, and parks, frees your mind up to be more creative and increases alertness levels throughout the day. Just think by simply taking a walk you are charging your mind and your body. Bonus! If you have a busy schedule though, don't fret – getting your daily dose of nature can be as simple as sitting in the park over lunch or a good book.
Give Your Medicine A Check-Up
Spring-cleaning your home and your health combine with your medicine cabinet. Clearing out your medicines will protect you and your family from medicines that could do more harm than good.
Check the expiry. Many medications lose their effect after expiry while some may be toxic. Either way, expired medicine is bad news. As a rule of thumb, you should also throw away any prescription medications that are more than one year old.
Strange colour, smell or taste? Bin it. It is better to be safe than sorry.
Don't keep it if you don't need it. Rash cleared up? Throw those antibiotics out! Medications are meant for a specific person, and use at a specific time. Someone else taking them, or taking them at a later date is asking for trouble.
Discard unmarked containers. If you can't identify or easily recognise any medication it needs to go. It is best to store your medication in its original packaging with clear identification.
Make sure that you dispose of your medicines properly. Check the label for disposal instructions. Your local pharmacy may also be able to assist you with safe disposal.
Eat Better And Feel Good
Changing your diet to eliminate dairy or gluten, or both can do wonders for your health. Not only will your skin clear up but your energy levels will rise – no more sluggish, tired mornings for you! Cutting gluten and dairy also does wonders for your gut – say goodbye to stomach pains, cramps, bloating and gas. Dairy, for one, is known to be a key trigger for irritable bowel syndrome and various other digestive conditions. It has been estimated that 70 percent of the world's population has some degree of lactose intolerance. Gluten-free diets are also known to improve cholesterol levels with the added benefit of eliminating unhealthy and processed foods from your diet lending to an increase in eating fruits and vegetables.
With Spring in full swing, make the most of this change of season and lose fat for good with the Doc's weight loss meals. They're calorie + portion controlled to you by our Docs to ensure that your weight and health goals are reached! Just $10 a meal. Book in with one of our Docs + start next Tuesday. 
The Doctor's Kitchen and our doctors service all Brisbane, Gold Coast, Sunshine Coast, and Toowoomba areas.
Image Source, Image Source, Image Source
The post Eat-Better-and-Feel-Good: Spring Clean Your Way To Better Health appeared first on The Doctor's Kitchen Australia.