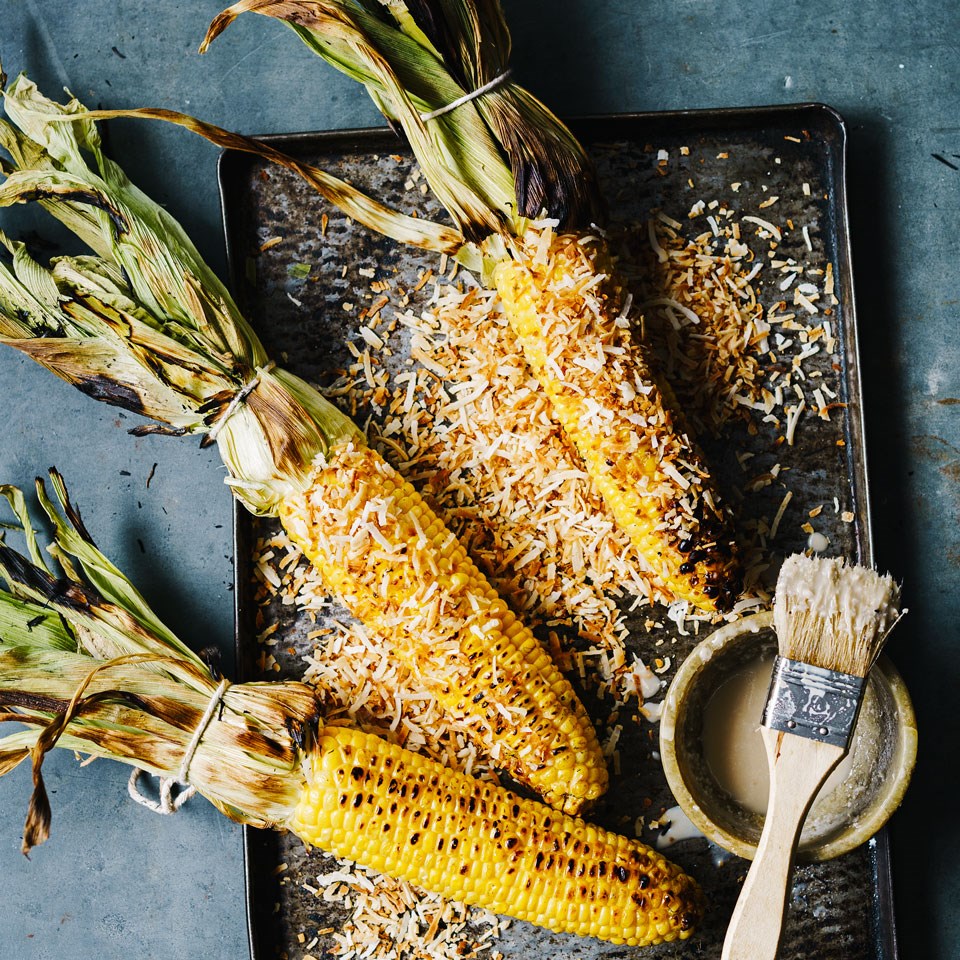 This Sunday is Father's Day and there's no better way to celebrate than the traditional Australian way, with the whole family around the BBQ. Celebrating doesn't mean you have to forget about your weightloss and wellbeing goals, in fact it's the perfect time to continue your healthy eating habits, as a family. The Doc's healthy-BBQ-ideas-for-Father's-Day are a great way to show how much you love him by taking his favorite celebratory foods and make them clean. Eating healthy on a daily basis significantly influences your metabolism, blood sugar, digestion, and helps improve your overall health + wellbeing for the long term.
Habits change your life and there's no better time to help encourage and support your dad in maintaining his positive habits than Father's Day as a family.
Here's some doc-spiration:
BBQ CORN COBS
These coconut grilled naturally sweet corn cobs are a purely delicious + healthier BBQ snack that is sure to be a family favourite that everyone will be talking about. Juicy, colourful corn is a good source of vitamin C, fibre, thiamine (vitamin B1), pantothenic acid (vitamin B5) and folate which will help maintain your overall wellbeing + health.
Ingredients
4 ears corn, unhusked
1 cup coconut milk
1 cinnamon stick
½ teaspoon sea salt
¼ teaspoon ground pepper
1 cup unsweetened shredded coconut, toasted
Method
Cut ½ inch off the tasseled end of each ear of corn. Pull the husk back leaving it attached to the stem end. Remove the silks. Tie the husk together at the bottom of the ear with kitchen string to make a sort of handle.
Combine coconut milk, and cinnamon in a small saucepan. Bring to a gentle simmer over low heat, stirring occasionally, until the cinnamon infuses the milk, about 5 minutes.
Fire up the BBQ!
Baste each ear of corn with some of the coconut milk mixture. Season with salt and pepper.
Lightly oil the grill rack. Grill the corn, turning and basting often with the remaining coconut milk mixture, until lightly browned, 8 to 12 minutes total.
Transfer the corn to a baking sheet and baste with the coconut milk mixture one more time. Place coconut on a large plate. Roll the corn in the coconut. Serve hot.
Recipe courtesy of eatingwell.com.
____________________________________________________
STEAK FAJITA SKEWERS
These steak fajita skewers are an easy way to incorporate wholesome and nutritious vegetables a sure way to help promote healthy eating for all ages.
Ingredients
1/2 kg sirloin steak, cut into large cubes
4 onions, cut into thirds
4 large red capsicums, cut into large pieces
8 skewers, soaked in water for 20 minutes
250 g cherry tomatoes
1 pack small wholemeal flour tortillas, torn into large pieces
Extra-virgin olive oil, for drizzling
Freshly ground black pepper
Method
Preheat grill to medium-high. Skewer steak, onions, capsicums, tortilla and tomatoes. Lightly drizzle with olive oil and season with pepper.
Grill, turning occasionally, until steak is medium rare and vegetables tender and slightly charred, about 7 minutes.
Recipe courtesy of delish.com.
____________________________________________________
GARLIC + CHILLI PRAWN SKEWERS
It wouldn't be a true Aussie grill without throwing a few shrimp on the barbie. Prawns are good for heart health because, like most seafood, prawn is rich in omega-3 fatty acids and vitamin B12 which helps keep your nerves and red blood cells healthy.
Ingredients
3 garlic cloves, finely chopped
1 long red chilli, seeded and finely chopped
2 tablespoons olive oil
2 teaspoons lime juice
cracked black pepper
750g raw king prawns, peeled, deveined, tails intact
Lime wedges, to serve
Method
Place the garlic, chilli, oil, lime juice, salt and pepper in a large non-metallic bowl and whisk until well combined. Add the prawns and toss to coat evenly. Cover and refrigerate for 15 minutes.
Heat a BBQ grill plate to high. Remove prawns from marinade and thread onto metal or skewers (ensure soaked in water for 20 minutes)
Grill prawn skewers for 2 minutes each side or until prawns are cooked through and golden. Serve skewers with lime wedges.
After a day of celebrating and cooking around the BBQ the Doc's-family-meals are a great alternative to having to prepare another meal for the family. They're full of goodness and packed full of veggies that your whole family will love. Pick your choice of healthy-balance, gluten-free, dairy-free, pescatarian, vegetarian and vegan options that can be adapted to suit any family. Even better, the Doc's family dinners serve 4 people, 5 nights a week for, NOW, only $6.50 pp! Head to our website to order yours today.
The Doctor's Kitchen and our doctors service all Brisbane, Gold Coast, Sunshine Coast, and Toowoomba areas
Image source, Image source, Image source
The post The Doc's healthy-BBQ-ideas-for-Father's-Day appeared first on The Doctor's Kitchen Australia.