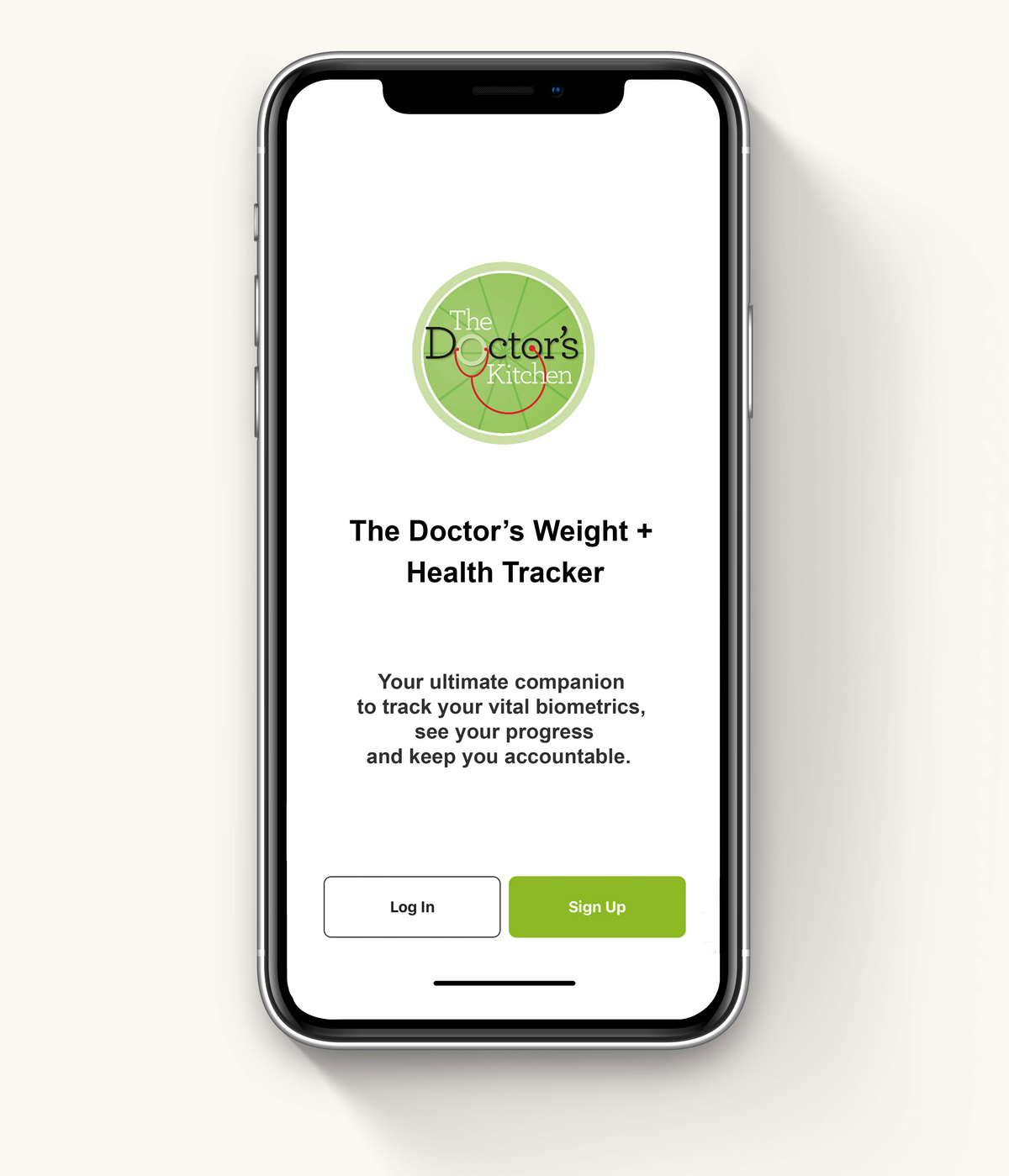 The Doctor's Kitchen has launched an APP to partner with its Doctor's prescribed weight loss meal program, an Australian first.
The Doctor's Kitchen Australia which offers Australia's only Doctor prescribed weight loss meal program has today released a first of its kind APP giving Australians on a weight loss mission access to track their weight loss, body composition measurements, including body fat, visceral fat, muscle mass, biological age, and overall health through graphs and photos at the touch of an iPhone.
The Doctor's APP is the ultimate companion to your success and will keep you accountable on your weight loss journey, one day at a time. Download FREE from the APP store.
The holistic Doctor's APP, available to all Australians participating in the Doctor's prescribed weight loss meal program, includes a built-in body fat percentage, visceral fat, and muscle mass calculator to help you determine if your individual biometrics fall in a healthy range. It's medically designed to instantly chart the changes in your body measurements against your goals with a dashboard summary of each measurement. This summary will help you understand your overall health, rather than just weight alone, see how far you've come and how far you've got to go. 
Australian Doctor and Founder of The Doctor's Kitchen Australia, Dr Phillip Wuth said, "we all know prevention is better than cure, and one way to help prevent illness is to keep tabs on key indicators of your health – weight, body fat, abdominal fat, muscle mass, metabolic age, BMR at rest.
When using a weight loss tracker, it is important to monitor not only how much you weigh, but also important indicators of health such as body fat percentage, and muscle mass. At each follow up consult with your Doctor, Australians can now monitor their weight and vital biometrics, track their progress and reduce their risk of developing diabetes, high cholesterol, high blood pressure, sleep apnoea, heart disease, obesity and other health concerns. It is also important to check in with your GP on a fortnightly basis. This way, by tracking your body measurements, you will be able to assess your weight loss trend over time and help stop weight cycling.
"Excess body fat is associated with significant risk of metabolic diseases like diabetes and heart disease. The Doctor's APP will help Australians better understand their overall health and see improvements to their individual body composition.
"Rather than tracking your health through tape measures and ordinary scales, progress is measured by prescribing GPs using body composition analysis to understand your individual biometrics. Unlike ordinary scales that record only body weight, The Doctor's Kitchen prescribed program incorporates bio-impedance scales to measure patients which provides additional data such as body fat, abdominal fat, muscle mass and basal metabolic rate.
"New research has found that these are the numbers that matter, and can be the key to losing weight and keeping it off." 
"The key is to eat fewer calories than you expend and monitor your vital stats like your body fat and muscle mass.
The Doctor's APP's standout feature though is the built-in body fat and visceral fat calculator which determines your individual measurements against how much fat you should lose or gain in order to be in the healthy range. This calculator gives results based on your body fat percentage and other measurements and they are not affected by your overall body weight. You can obtain these measurements by booking in with a prescribing Doctor.
Using the latest body composition analysis technology, our prescribing Doctors can now reliably measure and give you the key indicators of your health which you can capture with this APP as part of the Doctor's prescribed weight loss program. It's an important step forward in health terms, as its excess fat rather than overall weight that is the problem.
Understanding your body's individual components and composition, rather than just weight alone, can drive important health outcomes, including whether you could be at risk for developing a serious health condition, and to help develop a personalised plan to accelerate your fat loss, get the weight off for good and improve your overall health.
The Doctor's APP Top 6 Features
Set your desired weight and follow your progress (in kilograms)
Chart and track your body fat percentage to see your progress and determine if you fall in a healthy range
Chart and track your abdominal / visceral fat to see your progress and determine if you fall within a healthy range
Chart and track your biological age against your chronological age
Upload your photo at the beginning of your health journey to inspire and encourage your transformation
Monitor your basal metabolic rate (the number of calories your body needs at rest) against the Doctor's prescription to reach your weight loss goals
If you are concerned about your health or want to lose weight, start by measuring your body composition with one of our prescribing Doctors. Find your nearest prescribing Doctor using the Find a Doctor tool.
Simple changes in your daily lifestyle can help improve your overall body composition and life.
To find out more about the Doctor's prescribed weight loss program and how you can get started click here.
You can start the Doctor approved weight loss meal plans now without seeing a Doctor, now delivered across Australia. Whether you are located in Sydney, Melbourne, Adelaide, Perth, Gold Coast, Newcastle, Canberra, Hobart, Darwin, you can take the first steps to looking and feeling even better.