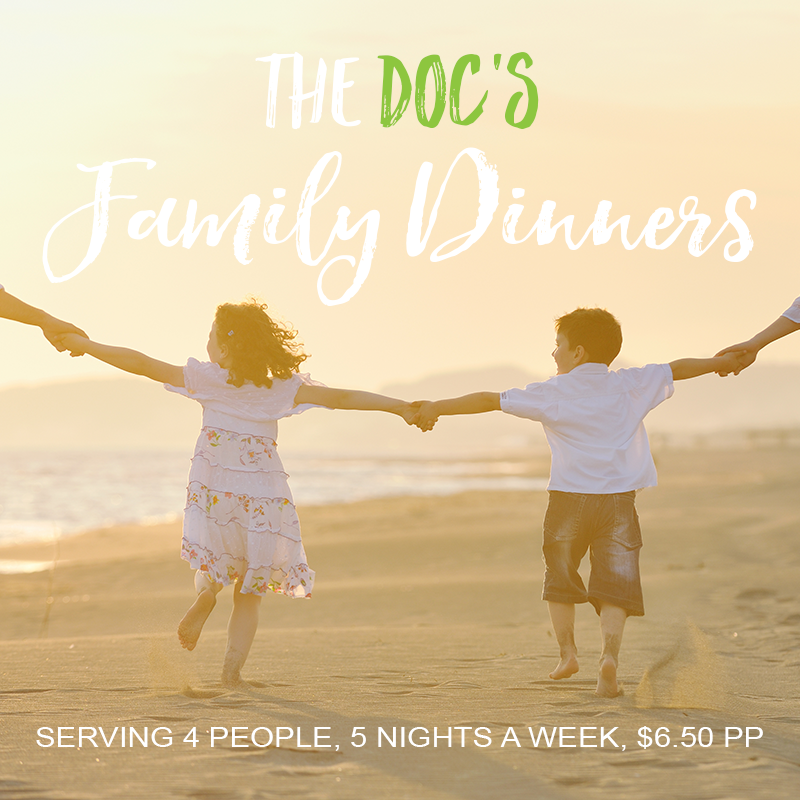 Childhood obesity is an issue that hits home. Our Doc's approach to managing this issue starts at home in which eating behaviours are set. If we can get kids to fall in love with healthy food then they're more likely to stick with these healthy eating patterns later in life. The Doc's family dinners helps teach kids the types of ingredients that can make veggie packed meals delicious and allow the parents to be the best role model they can.
At The Doctor's Kitchen, we just love veggies. Not just because they're nutritious, full of goodness and absolutely essential for your body, but also because they're purely delicious! Which got us thinking – why is it so hard to get our kids to eat them? The Doc wants our kids to grow up as strong and healthy as possible, so he's put together his top 5 tips to get-kids-to-love-veggies
1. Food is medicine
Food is medicine and our Docs know medicine. It's one of the most powerful tools we have to help prevent disease and maintain a healthy immune system. Our Docs believe in nourishing our bodies with nutrient-rich foods rather than just satisfying our taste buds. A good diet has always played a vital role in supporting health, which is why it's so important to think about what you put into your mouth every time you eat and drink, especially when you have little ones around.
2. Lead by example
Eating healthy meals together as a family plays an important role in establishing healthy eating habits in parents, adolescents and children. You will be your kids' first and most important role model. Eating proper portion-controlled, nutritionally balanced meals yourself is not only going to be beneficial for your own health, but will also teach your children the benefits of healthy eating and help them develop good eating habits and behaviours for later in life.
Eating together as a family at meal times is a great place to start. Studies have found that eating at least one meal per day with loved ones not only improves relationships, but also mood, brain activity, and physical health as well. Regular family meals can even reduce the rates of obesity and eating disorders in children and adolescents. How amazing is that?!
3. Get kids involved
Kids love getting their hands dirty and are great helpers in the kitchen. They'll learn the benefits of healthy eating and develop lifelong skills while you spend quality time together. Even better, why not start your own backyard veggie patch and reap the rewards of growing your own fruits and vegetables? Nothing tastes better than freshly harvested produce straight from your own backyard!
4. Play hide and seek
It's easier than you think to sneak veggies into your family meals and we'd recommend that you get some doc-spiration from the Doc's family dinners.  Doc Tip: Try adding some chopped up or grated carrot and zucchinis to your pasta sauce, and opt for wholegrain versions of pastas, breads and rice. For a special treat, try making your own banana nice cream. Simply mix frozen bananas and your fruit of choice in a blender to enjoy a healthy, creamy, dairy free ice cream alternative.
5. Educate, educate, educate
This step is so important. Teaching kids about the benefits of healthy eating and exercise will ensure that they can learn to make healthy choices on their own. Explain how different diets affect their health and prepare them with some easy, go-to recipes or healthy snacks that you can make together.
The Doc's family dinners are a great place to start. They're based on a balanced, wholefood diet including a rainbow of vegetables, wholegrains, gluten free grains, locally sourced meat and fish, plant protein and healthy heart fats and are free of refined sugar and added salt, preservatives, artificial colours or flavours. They're full of goodness and loaded with veggies that your whole family will love and enjoy.
Pick your choice of vegan, gluten-free, dairy-free, pescatarian, vegetarian and healthy-balance menus that can be adapted to suit any family. Serving 4 people, 5 nights a week for $6.50 per person! How great is that?! Head to our website to take a look at the Doc's menus.
The Doctor's Kitchen and our doctors service all Brisbane, Gold Coast, Sunshine Coast, and Toowoomba areas.
The post The Doc's top 5 tips to get-kids-to-love-veggies appeared first on The Doctor's Kitchen Australia.