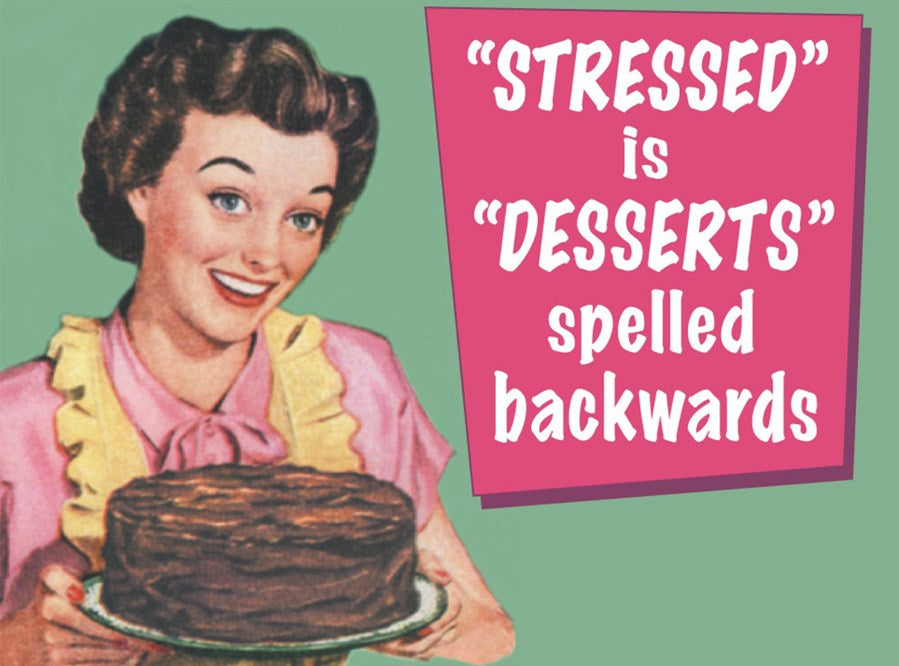 Losing weight should be easy… right?! Just eat less and exercise more. We know it's no easy feat. Obesity is a national health priority in Australia. Emotional eating plays a huge role in Australia's obesity epidemic with 83 per cent of overweight or obese Australians eating emotionally, with stress and depression being major triggers. The truth is that we live in a world designed to erode willpower. For example, chocolate bars are placed at the check out of every supermarket and it's difficult to escape the lure of comfort food. Here are the Doc's 3 simple strategies to help you better manage your emotional eating and prepare for the emotional-challenges-of-weight-loss.
Negative Self-Talk
The biggest obstacle is your inner critic. How many times have you criticised yourself in the last 24 hours? Stop and think about it. If you're having any doubts that you've been anything but complimentary, think back to when you got dressed this morning. What exactly did you say to the image in the mirror? "I can't wear that today – my thighs are enormous! I'll never fit into those pants that I bought last month!"
Negative self talk can hamper your weight loss efforts because it keeps you stuck in the past, it undermines your confidence, it destroys trust in yourself and it's really believable!
And, the worst kind of negative self talk is setting unrealistic expectations on yourself or your weight loss goals. This is because it can be very easy to talk yourself down, and out, of your healthy habits. It is also likely to completely dampen any level of weight loss motivation. Something as normal (and healthy) as fluctuating numbers on the scale can be the root of a barrage of negative self-talk. It common to believe that it may be easier to just give up or sabotage the rest of your day after indulging in one small treat.
Doc Tip: You need to be honest and realistic with your expectations. Long term good health and positive lifestyle changes take time. So, nurture your brain just like you would your body – with positive thoughts. It's also important to be kind to yourself during a time of transformation. Find a source of support – a psychologist, friend, or parent. Someone that will listen, understand, and help you see through your negative thoughts.
Emotional Eating
Old habits die hard, or so they say. Many Australians who are overweight, struggle with their weight because they comfort eat to help cope with difficult situations. Do you eat more when you're feeling stressed? Do you reward yourself with food? Do you feel powerless or out of control around food?
You may be able to stop stress eating or emotional eating by understanding more about why you need comfort food. Does it calm you down, cheer you up, compensate you for a tough day, or some combination? Recognising these thought patterns can make it easier to resist giving in. It also helps to realise that emotional eating doesn't solve the problem.
Doc Tip: Know your emotional triggers by keeping a food diary that records not only what and how much you ate, but also how you felt at the time. Another powerful way to help overcome emotional eating is to try and distract yourself. Some of the best distractions from emotional eating are things that take only about five minutes—just like calling a friend, sitting outside, going for a walk.
Distorted Reality
After identifying one way for a long period of time (i.e the overweight, funny one); it can feel like this aspect of you is ingrained in your identity. It can come as a real, and unexpected, shock to be transforming in one aspect of your life; and suddenly feel as though you don't know who you are anymore. It's normal for it to take some time for your brain to catch up to your new look; or for you to stop feeling certain ways about your body. After all, these thought patterns have likely been cemented over a period of years. Remember, to look back on how far you have come – progress photos are just one way to keep your brain in check.
Doc Tip: Ask for the help when you need. It doesn't make you weak, it makes you stronger. Update your wardrobe with clothes that fit you properly; this can help build your self-esteem and confidence.
The Doctor's Kitchen Australia and our team of experienced Doctors provide unwavering support throughout your weight loss journey with face-to-face consults and regular check-ins.
You can book in with one of our Docs at the Carina Medical & Specialist Centre, Carina,  Rosalie Milton Clinic, Auchenflower and Aqua Marine Medical Centre & Skin Clinic, Redland Bay, Baywest Medical Centre, Wynnum West to get started on the Doc's weight loss meals.
The Doctor's Kitchen, weight loss meals and our doctors service all Brisbane, Gold Coast, Sunshine Coast, Ipswich and Toowoomba areas.