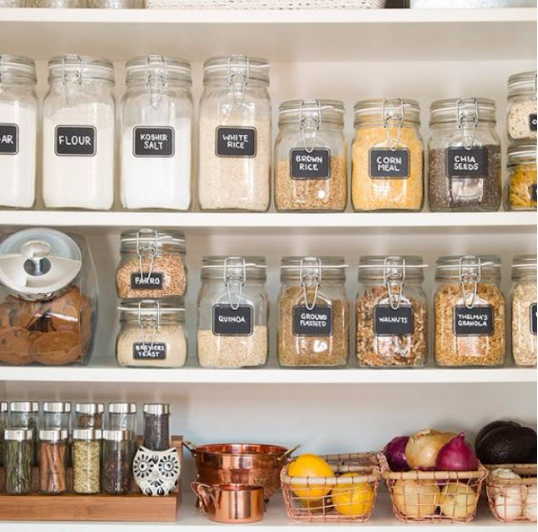 Do you often end up in a staring contest with the pantry? Despite there being an abundance of food, there's just nothing to eat? Chances are you're all too familiar with this routine. Here's the Doc's pantry-essentials-checklist to help you stock and create the perfect well balanced meal every night of the week for you and your family!
Jar It
Tomato Paste is so incredibly versatile and can be used in almost any dish! Tomatoes are also a wonderful source of vitamin B6, C, K, beta-carotene, potassium and manganese. Use this as a base for any classic recipe for tomato sauce that can pretty much be used every week in your kitchen for dishes such as roasted vegetables, meatballs, classic baked eggs and more!
Chickpeas are the perfect base to a purely delicious meal that will help nourish the body and make you feel great. They are high in protein and generally inexpensive. Chickpeas are high in insoluble fibre that can help lower cholesterol, regulate blood sugar and support healthy digestion. Add them to a fresh leafy green salad or blend them up with garlic, cumin, lemon juice, water, salt, and pepper for a quick, easy and delicious hummus!
Brown / Green Lentils are low in fat and packed with protein and fiber. Brown lentils, the least expensive variety, cook quickly and make great additions to soups, stews, and salads.
Black Beans are great, especially if you're in the mood for some Mexican inspired cuisine. They're a good source of protein that's essential to repair the body and nourish the immune system. They also contain fibre that helps to delay glucose absorption keeping our blood sugar more stable. If you're time poor nothing goes past a basic version of refried black beans scented with a little chilli, cumin, coriander and smokey paprika then topped with tender chunks of avocado and a squeeze of lime.
Bulk It
Buckwheat Pasta is a nutritious naturally wheat free and gluten free alternative to the traditional pasta. Buckwheat is known to have the best source of high biological proteins in the plant kingdom and is highly valued for its nutritional benefits.
Brown Rice is a heart healthy addition to any meal. It's great to use if you have digestive issues. It's a lovely, mild in flavour and gluten free. It's also a source of B vitamins that are needed for energy metabolism. It's the perfect complement to steamed or stir fried veggies and your choice of protein or you could use it to try your hand at a Spanish inspired paella.
Quinoa has a delicate and nutty flavour and is incredibly delicious. You can use any leftover cold quinoa as a base to salads and fold through lemon, olive oil, massaged kale and fresh chopped garden herbs. It's naturally gluten free and has a low GI of 53. Quinoa is also a complete protein which means that it contains all the essential amino acids that the body needs for repair.
Basics
Whole wheat flour contains fewer calories and carbs, but packs more protein, calcium, insoluble fiber (fibre that helps promote healthy digestion), and other nutrients than its white counterpart.
Extra Virgin Olive Oil maintains many nutrients and has a stronger flavour because it's processed without high heat, bleach or chemicals. Whereas, aromatic olive oil are often high in healthy monounsaturated fat and antioxidants.
Old-fashioned Oatmeal will help manage cholesterol and prevent heart disease. Thanks to oatmeal's high fibre content, it will also keep you satisfied for hours.
Vinegar, even just a small amount, can add significant flavour to a variety of dishes with very few calories and little to no fat.
Follow Your Tastebuds!
With these pantry staples you won't get caught off guard again. Instead, you'll have a simple, healthy and quick meal that will save your waist AND your wallet from take-out's or a trip to the grocery store! Top up on your favourite spices, meats, fruits, and veggies to take your quick-fix meals to the next level.
The Doctor's Kitchen Australia incorporates premium wholefoods and superfood ingredients to create nutritionally complete + purely delicious meals that you can grab on the go; AND that are portioned to help achieve overall wellness and good health! You can book in with one of our Docs at the Carina Medical & Specialist Centre, Carina,  Rosalie Milton Clinic, Auchenuflower and Aqua Marine Medical Centre & Skin Clinic, Redland Bay to get started on the Doc's weight loss meals.
The Doctor's Kitchen and our doctors service all Brisbane, Gold Coast, Sunshine Coast, and Toowoomba areas.
The post The Doc's Pantry-Essentials-Checklist: Pantry Staples for Any Meal appeared first on The Doctor's Kitchen Australia.