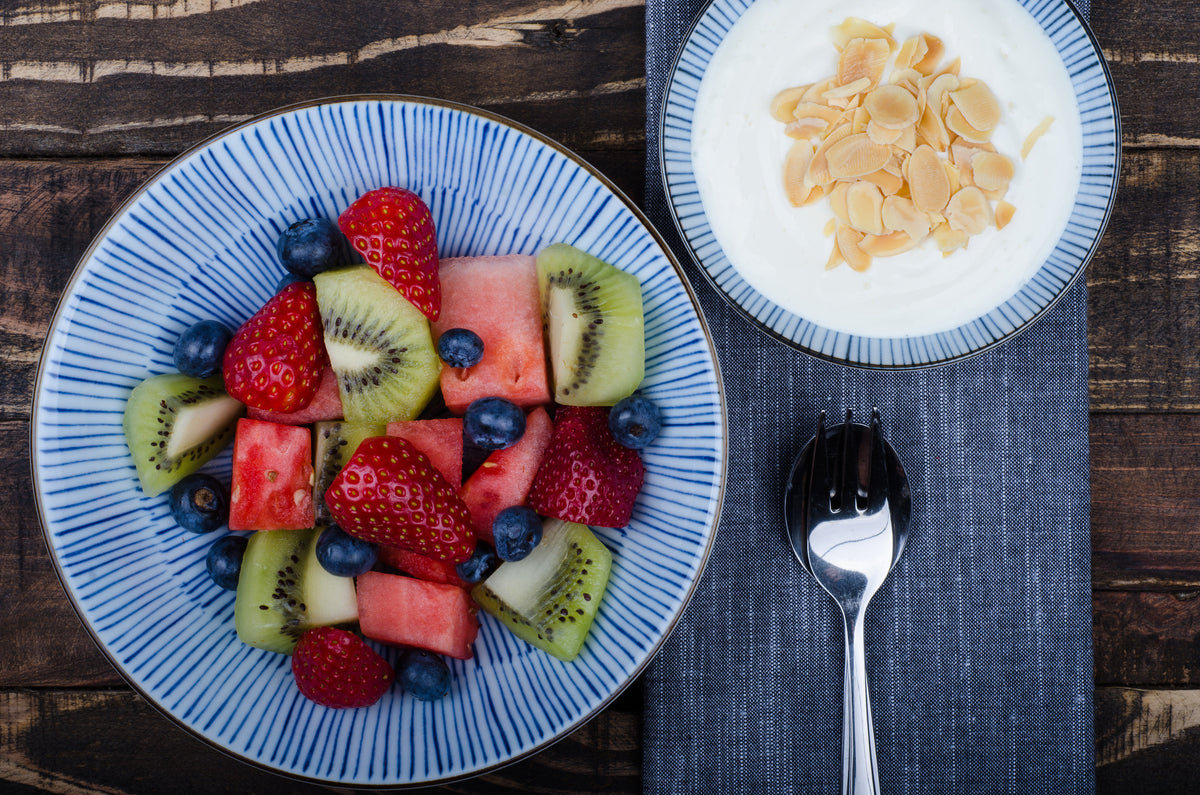 Breakfast! We're often told that it is the most important meal of the day. But, have you ever stopped to wonder what separates breakfast from lunches or dinners? Eating when you get up breaks your overnight fast, helps kickstart your metabolism, and refuels your energy levels to get you ready for the day ahead. Breakfast also plays a significant role in weight control, mood, and concentration levels. Yep, you can forget the myth that skipping out on breakfast will help you cut calories or keep your hunger at bay. It's just not true! The Doc is here to bust some breakfast myths and tell you just why-you-should-never-skip-breakfast!
What's common is that most of us fall short of our daily fruit and vegetable servings. This is why we recommend breakfast as a powerful way to get your serve of prebiotics, antioxidants and vitamins that come from pure, organic wholefood ingredients.
Want to lose weight? Eat breakfast!
Your body needs protein for growth + development, healthy fats for keeping you fuller for longer, and fruits and vegetables for fibre and antioxidants. Eating a nutritious breakfast helps maintain your blood sugar levels, reduce risk of binge eating, and sets the tone for a day of healthy eating and behaviours. In fact, depriving your body of essential nutrients, particularly first thing in the morning, won't help in your journey to lose weight or your health in the long term. Rather, when you eat breakfast (and the right kind and portion) it will help kickstart your metabolism, which is the function needed to burn calories throughout the day.
The Doc's Scrambled Egg Mixed Seeds & Greens is naturally gluten and dairy free + a great way to help you feel fuller for longer and keep total food volume down.
Break-the-fast
When you go to sleep at night your body is at rest, and considered to be in a fasting state. Considering the average recommended amount of sleep is about 8 hours – that's a long time to go without eating! Eating when you get up in the morning breaks this fast. Without it you're pretty much running on empty – like a car without fuel. Far from ideal.
Doc fact (well, kind of): Did you know that's how breakfast got it's name – breaking the fast.
Feed the brain
A balanced and nourishing breakfast is one that is rich in nutrients that are needed to supercharge your day. Eating breakfast helps restore glucose levels that are needed for the brain to function optimally. By fueling your body you are also fueling your brain which in turn allows you to improve your memory and concentration levels, and your mood. This is especially true for growing minds with improved grades and behaviour linked to children who regularly eat a nutritious breakfast.
The Doc's Tips
Need some help to ensure you can get a good breakfast, and start your day right? Here are the Doc's best tips for nailing breakfast every day!
If you're prone to a sleep-in, set your alarm 10 minutes earlier than usual so you can fit in breakfast at home.
Make use of your time on public transport with a portable breakfast option to eat on the go.
Pre-make some easy breakfast foods to grab and go. Think savoury muffins or a zucchini slice.
If circumstances allow, keep some breakfast options at work to enjoy once you arrive.

The Doc's Chia Seed Pudding with fresh fruits + Roasted Almonds is naturally gluten and dairy free and vegan + a great way to help you feel fuller for longer and keep total food volume down.
Need some breakfast inspiration?
The Doctor's Kitchen Australia incorporates premium wholefoods and superfood ingredients to create nutritionally complete + purely delicious and menus (including breakfast) that can aid you on your path to health and wellness. You can book in with one of our Docs at our HQ at Carina. Or now, at the Rosalie Milton Clinic, to get started on the Doc's weight loss meals.
The Doctor's Kitchen and our doctors service all Brisbane, Gold Coast, Sunshine Coast, and Toowoomba areas.
Image source, Image source, Image source
The post How to lose weight: Why-You-Should-Never-Skip-Breakfast appeared first on The Doctor's Kitchen Australia.