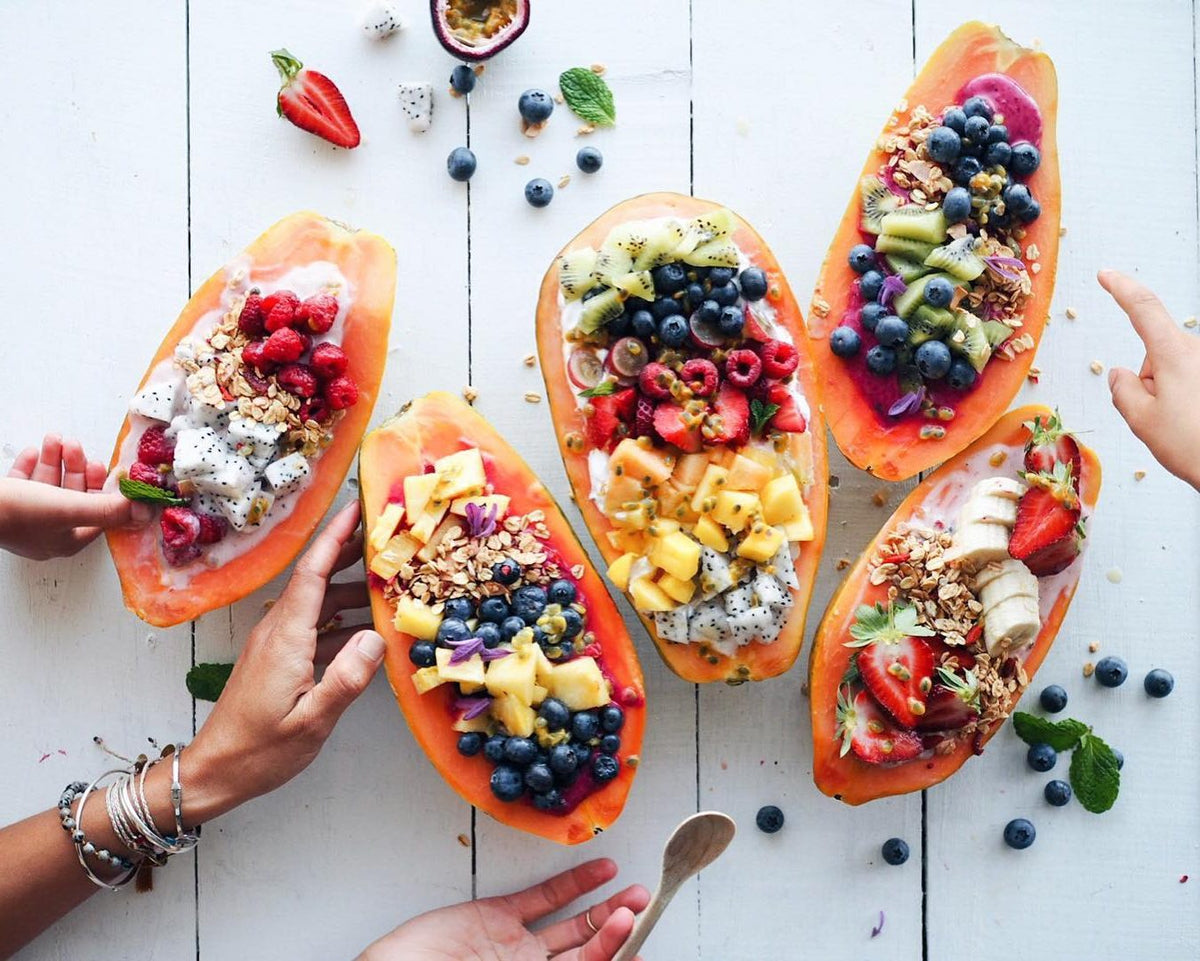 We all know that a healthy, well balanced diet and regular exercise can help you lose weight, gain fitness and reduce your risk of various diseases. But did you know that different foods can also affect the health and appearance of your skin? The Doc's put together the best foods to help you eat-right-for-your-skin.
In general, a healthy diet will result in healthy, glowing skin, however some foods are better than others at targeting skin functions such as cell repair, collagen production, and preventing breakouts. This blog makes it easy to know what you should and shouldn't be eating for bright, clear and healthy skin.
The easiest way to eat-right-for-your-skin is to eat a well balanced, whole foods diet. Fill up on fresh fruits and vegetables, whole grains and lean proteins.
In particular, foods high in omega-3 fatty acids, or good fats, are wonderful for rehydrating and plumping up your skin. Avocado, almonds and salmon are great sources of omega-3.
Foods high in Vitamin C are perfect for building up strong immune systems, radiant skin and healing blemishes. Vitamin C is a powerful antioxidant and can assist in the production of collagen. The best sources are blueberries, broccoli, oranges, papaya and sweet potato.
Vitamin E has natural healing properties that will protect your skin from cell damage and support healthy skin growth and repair. Nuts such as almonds and hazelnuts are good sources of Vitamin E as well as avocado, pine nuts and sunflower oil.
Zinc is vital for the repair of connective tissues and immunity. It is also involved in the function of the sebaceous glands in the skin. Lean proteins including fish and poultry are rich in zinc, as well as wholegrains, nuts and seeds.
If you find it difficult to include all of these foods into your diet, or for an extra boost, try a natural probiotic or dietary supplement. Fish oil is anti-inflammatory, anti-ageing, hydrating, and works to regulate hormones that affect your skin. Apple cider vinegar has also been promoted for its anti-inflammatory properties.
Cigarettes and alcohol can speed up your skin's ageing process, lead to breakouts and cause your skin to dull. For bright, healthy skin try to avoid excessive smoking and drinking, and make sure you're drinking plenty of water!
Don't be discouraged if you don't see results overnight. It can take up to six weeks for new skin cells to reach the surface, so be patient. If any skin problems persist, book in with the Doc at Carina Medical & Specialist Centre or make an appointment with your dermatologist.
All of the Doc's meals are purely delicious, full of goodness and contain all of the vitamins and minerals you need to eat-right-for-your-skin. Head to the Doc's website today to take a look at the Doc's range of gluten-free-meals, dairy-free-meals, pescatarian-meals, vegetarian-meals, vegan-meals or healthy-balance-meals.
The Doctor's Kitchen and our doctors and general practitioners service all Brisbane, Gold Coast, Sunshine Coast, and Toowoomba areas.
#thanksdoc
The post Eat-right-for-your-skin with the Doc appeared first on The Doctor's Kitchen Australia.