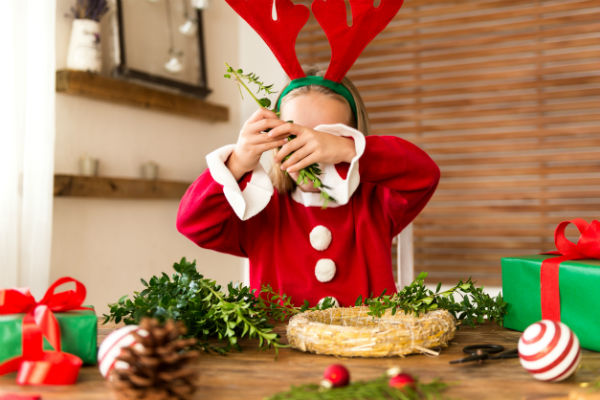 Thanks to the Doc, here's our top 4 festive ideas to stop you throwing all your healthy habits out with the wrapping this Christmas!
1. DIY fruit Christmas tree
Start a new holiday tradition with a beautiful and fresh Fruit Christmas Tree! Perfect for parties, a dessert table centerpiece, or a healthy treat for Santa!
All you'll need is:
fresh seasonal fruit (all those delicious summery colours like strawberries, blueberries, pineapple, grapes, kiwifruit, mandarins),
a cone made of foam (which you can get at any craft shop like Spotlight or Lincraft).
It's a fun family activity the kids will love – and it can double as a lovely table centrepiece.
2. Make a DIY cranberry and popcorn garland - instead of tinsel
Add some homemade charm to your Christmas tree or table this year with a DIY cranberry and popcorn garland. Air pop or cook some popcorn kernels on the stove, then string with cranberries or cherries with a needle and thread – beautiful and yummy!
3. Watermelon Christmas Trees
These easy to create watermelon Christmas trees add loads of festive cheer to the upcoming holiday season. To make them:
Cut the watermelon into half width-wise.
Lay the half watermelon on the cutting board with the cut side facing downwards, and cut the watermelon into half again.
Hold your knife perpendicular to the shorter width of the watermelon and cut into slices. Each slice should be the shape of a quarter.
Cut each slice into half to form a one-eighth pie shape.
To make the base of the Christmas tree, slice the watermelon rind into thirds and then trim off the pieces from either side so you are left with one "tree trunk" in the middle!
4. Make your own healthy gifts
This holiday season, give your family and friends a gift from the heart — and the heart of your home: the kitchen. Get the kids involved in putting together some healthy festive gifts for your friends, family, neighbours and visitors. Fill up decorative jars with raw or roasted nuts, or your own herbal tea blend, or assemble a hamper full of fresh seasonal fruits, mixed nuts and dried fruits, gourmet pantry staples like extra virgin olive oil or dried pasta, and condiments like tapenades, relishes and chutneys.
Try the Doc's delicious and rewarding home made crunchy granola recipe. It's super easy plus has no added oils in the cooking process.