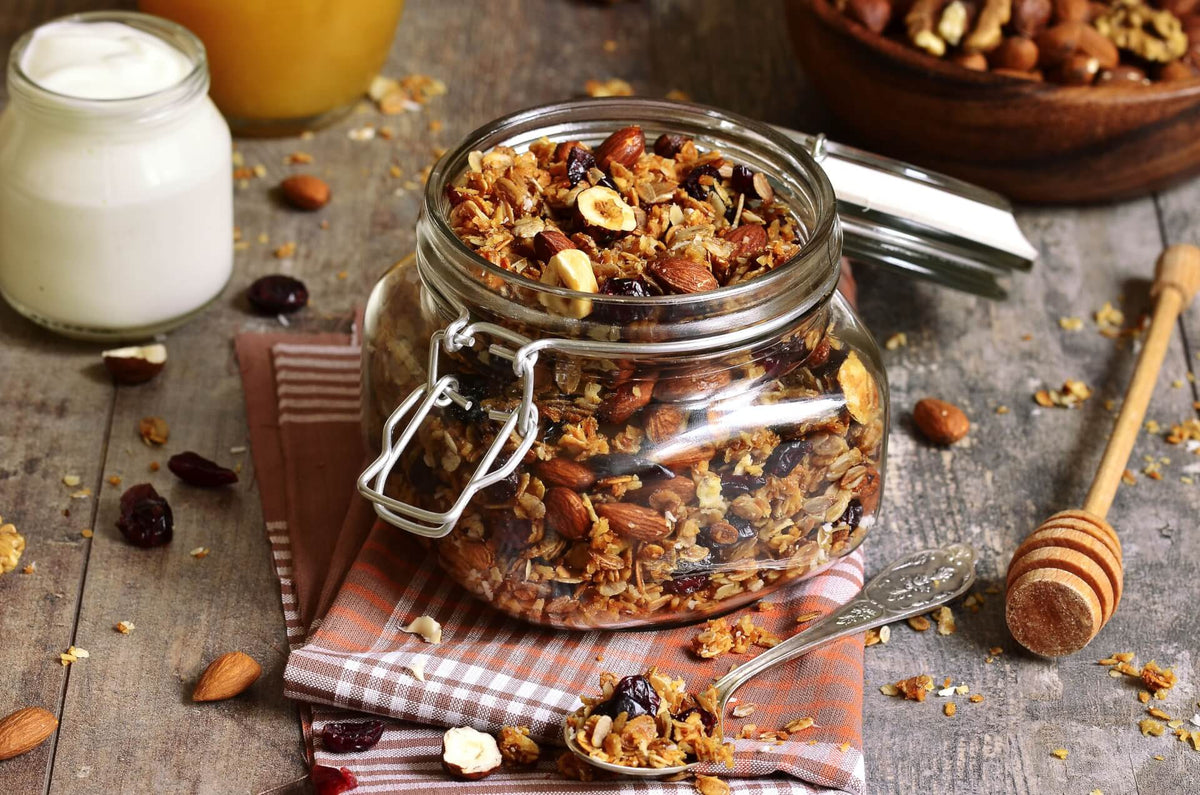 There is nothing more delicious and rewarding than making your own crunchy granola. You make make up a few batches over a weekend to enjoy with fresh berries and lush natural yoghurt. What we love about this recipe is that it is really easy to make plus it has no added oils in the cooking process like many store bought versions.
The Doc encourages you to be creative and enjoy the whole process of cooking your masterpiece!
Ingredients
Makes 1 large jar
200g rolled oats or raw buckwheat if gluten free
200g raw almonds
100g pumpkin seeds
50g sliced hazelnuts
1 teaspoon ground cinnamon
zest from 1 orange
1 teaspoon vanilla bean paste
50g (2 generous tablespoons) raw honey or pure maple syrup
50g dried cranberries
50g organic sliced dried apricots 
Method
Preheat the oven to 120°C (250°F).
Combine oats or buckwheat if using + the  almonds, hazelnuts, pumpkin seed, cinnamon + orange zest.
Warm the honey and vanilla until a pouring consistency is achieved
Pour into the dry ingredients and mix through well until honey coats the oats and nuts.
Line 2 large baking trays with baking paper.
Divide the granola onto the trays and spread the mix out very thinly and evenly over one layer (don't pile!)
Toast the muesli for about 45 mins or until the grains and nuts get a lovely golden colour. Make sure not to overcook and burn them, best to check the muesli during the toasting time and give it a light mix.
Cool on the trays until crunch and then add dried fruits.
Store in a sealed container and enjoy.
Doc-spiration
Serve simply with icy cold milk of your choice (rice, almond, dairy, soy).
Serve with natural organic yoghurt and fresh Summer strawberries.
Sprinkle over fresh or poached fruit for a delicious crumble.
Enjoy as a snack straight out of the pack.