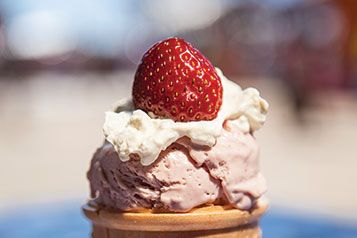 August in Brisbane means busy schedules, beautiful winter days, and the Ekka! It's a day packed full of fun rides, exciting shows and delicious Ekka food. But, show day food isn't necessarily the healthiest option for you and your family. It might be tempting to go straight for the hot chips, dagwood dogs and showbag lollies, but it is possible to stay healthy and still enjoy your day. The Doc has come up with this list of healthier-Ekka-food and alternatives.
Head to the Fresh Food Pavillion
The Woolworths Fresh Food Pavilion is a great option for healthier, fresher Ekka food. There are over 70 stalls of fresh and delicious local produce from a range of different cuisines, so you'll be sure to find something for everyone.
Pack your own
This is the simplest way to make sure you're staying healthy on your day at the Ekka. Make a couple of salad wraps, pack some fresh fruit and a handful of homemade muesli bars and you'll be ready! And bonus, you'll be saving money!
Strawberry sundaes
The iconic Strawberry Sundaes is a healthier snack option and a special Ekka treat. Even though these crowd-pleasers may not be entirely healthy, they do contain fresh strawberries, gourmet strawberry ice-cream, cream from Queensland dairies and crunchy wafer cones. And, you can feel good about your treat, knowing that the proceeds go towards the Prince Charles Hospital Foundation.
The Doctor's Kitchen meals are full of goodness and packed full of veggies that your whole family will love. Pick your choice of healthy-balance, gluten-free, dairy-free, pescatarian, vegetarian and vegan options. Even better, each meal is only $10! How great is that?! Head to our website to order yours today.
The Doctor's Kitchen and our doctors service all Brisbane, Gold Coast, Sunshine Coast, and Toowoomba areas.
The post The Doc's guide to healthier-Ekka-food appeared first on The Doctor's Kitchen Australia.