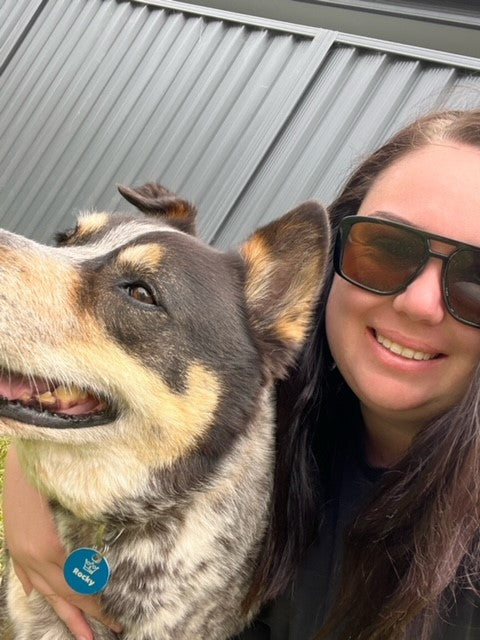 Peta, 27, from Sydney has revealed her secrets behind her weight loss, after she lost an impressive 3.8kgs of body fat in just SIX weeks with the Doctor.
Peta, 27, from Sydney has revealed the secrets behind her 3.8kgs fat loss
She was carrying an excessive level of body fat
She enjoyed the calorie controlled meals from The Doctor's Kitchen Australia and delivered by Lite n' Easy
She coupled this with the daily resistance training exercises and fortnightly check-ins with the Doctor
Peta said that her fortnightly check-ins with her Doctor were the key in keeping her motivated and on track
Peta was carrying excessive levels of body fat six weeks ago when she started on the Doctor's prescribed weight loss meal program.
Today, Peta now weighs 88.7kgs, got rid of 3.8kgs of unhealthy body fat, reduced her abdominal fat to an even healthier level of 6.5.
Peta (pictured) with her two beloved cattle dogs Coco and Rocky who are celebrating her incredible success with the Doctor's prescribed weight loss meal program.
Even more impressive, Peta gained 2.1kgs of muscle and by doing so increased her daily basal metabolic rate meaning she burns more calories at rest.
Excess body fat is associated with significant risk of metabolic diseases like diabetes.
Research shows that there are significant health benefits that come from losing just 5% of your body fat. This includes lowering the risk of diabetes and cardiovascular disease and improved metabolic function in liver, fat, and muscle tissue.
Peta decided to start the Doctor's prescribed weight loss program because over the past few years she had slowly put on weight. "I feel like a major factor of this was starting to work from home and I really needed help to kick start healthy habits." Peta said.
With the body composition scales delivered to her home, and video consults with her Doctor, she was recommended to start on 1200 calories per day.

The Doctor's Kitchen Australia has partnered with Lite n' Easy to provide a life changing range of meals to help support everyday Australians in their journey to better health.
The Doctor's Kitchen is Australia's only medically prescribed weight loss meals for fat loss and metabolic health. 
Rather than tracking your health through tape measures and ordinary scales, progress is measured through a patient's individual biometrics and body composition results. 
Before starting her weight loss and health journey, Peta felt drained and defeated. "I felt like I had given up trying as life had been so busy. "I felt like I shouldn't bother being active because I was so unfit, I was confused and didn't know where to start." Peta told The Doctor's Kitchen Australia.
Ready-to-eat meals based around a 1,200 calorie plan were sent to Peta each week.
The Roasted Mediterranean Vegetable Ravioli is one of the delicious dinners available as part of the Doctor prescribed weight loss meal program.
She enjoyed the Roasted Mediterranean Vegetable Ravioli and the Eggs Benedict which formed part of the menu. "I am a very fussy eater, and I enjoyed all the meals provided. There is a lot of variety, and it was easy to choose meals." Peta said.
The Doctor's weight loss program aims to encourage changes in habits and help you understand the impact of portion sizes on your weight loss success and long term health. Peta said that "receiving the meals made me realise the amount of food I should be eating, although it was smaller than what I had been eating before the program I still felt full after each meal."
Australian Doctor and Founder of The Doctor's Kitchen Australia, Dr Phillip Wuth said that "the key is to eat fewer calories than you expend and monitor your vital stats like your body fat and muscle mass".

Dr Phillip Wuth (pictured) is the Founder and Australian Doctor of the highly respected weight loss program which managed by GPs works to improve the health and lives of everyday Australians. 
Peta would eat the meals from The Doctor's Kitchen five days a week and prepare her own meals for two days a week.
Alongside the calorie controlled meals, Peta also followed an exercise program comprising resistance-based movements like squats and lunges that worked her entire body. 
As part of the Doctor's prescribed program comes a 6 week Resistance Workout Plan which is tailored to your fitness level (beginner, intermediate or advanced). At home, or outdoors.
"They only took roughly 10 minutes, and they made a big difference to my results and the end of each fortnight," Peta said. 
When Peta was asked what motivated her the most she said that the Doctor check ins were her main motivation. "Knowing that they were coming up every 2 weeks and being able to talk to them about what I had been doing and having someone knowledgeable help along the way made a big improvement to my motivation. I was always surprised at how good my results were each fortnight." Peta explained.
"Unlike ordinary scales that record only body weight, the Doctor's bio-impedance scales provides additional data such as body fat, abdominal fat, muscle mass and basal metabolic rate (BMR) (the number of calories your body burns at rest)," Dr Wuth said.

The Doctor's program gives you a break down of your body composition and understanding of your overall health to help accelerate your success.
"New research has found that these are the numbers that matter and can be the key to losing weight and keeping it off," Dr Wuth said.
Peta (pictured) with one of our beloved cattle dogs celebrating her incredible success to better health and refreshed physique.
Peta found this Doctor-led program different and better to other programs. "I have tried many, many programs and after about 2 weeks I would fall back into old habits," she said.
"With this program, knowing the doctor appointments were scheduled every 2 weeks it helped me stay on track as I knew I would be reviewing my results with the doctor," Peta said.
At each consult the Doctor provides you with your biometrics so you can see and understand the individual changes to your weight and overall health. "I loved learning about my body and what different results meant for me, like BMI, body fat % and body muscle. loved that the doctor made suggestions throughout the program to help me improve my results." Peta told The Doctor's Kitchen Australia.
The Doctor's Kitchen Australia partnership with Lite n' Easy provides everyday Australians greater access to transforming their health and habits as part of the weight loss program.
Peta's changes to her weight and body composition have had many benefits to her. She now feels like she can concentrate better while working, is more active and feels more knowledgeable when it comes to her health and what works for her.
The Doctor's Kitchen Australia is Australia's only medically prescribed weight loss meals for fat loss and metabolic health. 
To find out more about how to get started or finding your nearest Doctor, you can visit the website.
CUA Health Insurance offers eligible members a rebate of up to $300 off the Doctor-led program while CBHS Health Insurance and CBHS Corporate Health Insurance members can get a 35% discount off their first order. 
What are the doctor's secrets to lasting weight loss? 
* Track all of your vital statistics including weight, body mass index and muscle mass. You can do this with special composition scales.
* Figure out how many calories you should be eating per day and follow that plan as strictly as possible.
* Learn to listen to hunger cues, and you might notice you don't need to snack as much and as often.
* Find an exercise plan you can stick to, set aside the time in your diary and build it up slowly. 
* Keep your protein intake high to encourage fat burn, but also allow you to stay full.