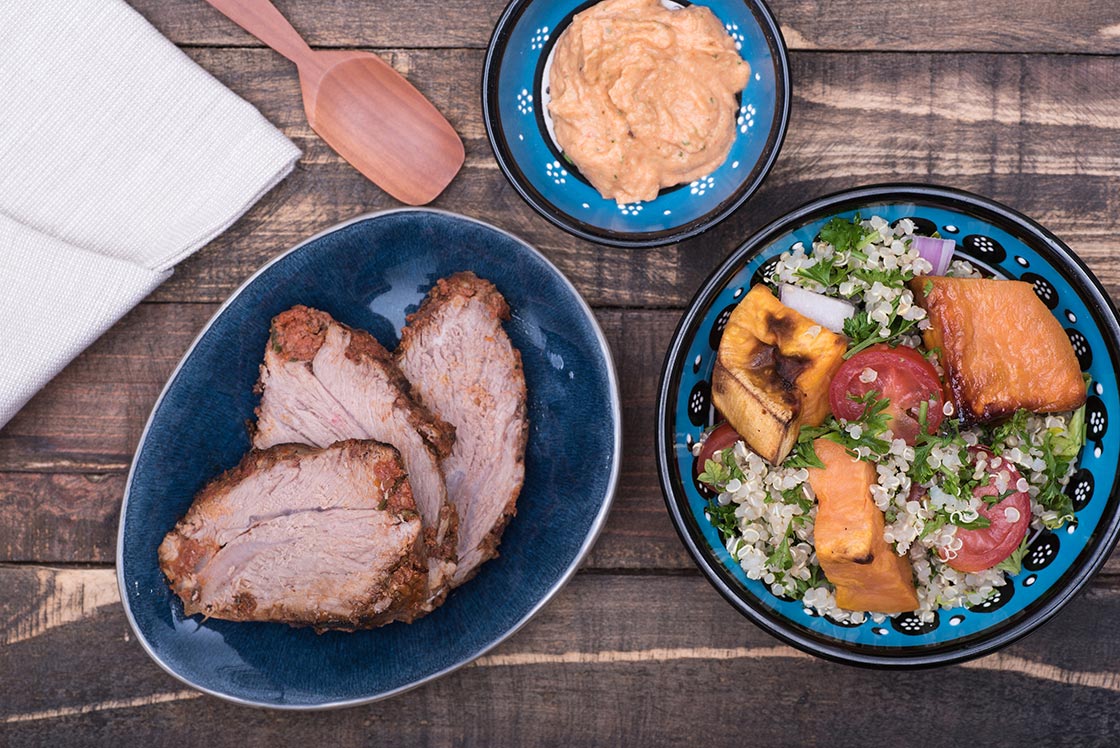 Food intolerance refers to a difficulty digesting certain kinds of foods. The two most common foods associated with intolerance are dairy products and foods containing gluten. Despite an increasing prevalence, many people do not even realise they have these intolerances. The symptoms of gluten or dairy intolerances include bloating, headaches, and irritable bowel. If you have any of these symptoms, make an appointment to see the Doc.
Finding out that you can no longer eat diary or gluten doesn't mean you have to give up your favourite foods. Luckily, The Doctor's Kitchen Australia has both dairy free and gluten-free-meal-delivery menus that you will love.
Take a look at the Doc's purely delicious + full of goodness 5 Days Gluten Free and 5 Days Dairy Free menu.
We've compiled four of our very favourite dairy free and gluten-free-meal-delivery meals below.
Baked Egg Shakshuka with Wholemeal Flat Bread
They say breakfast is the most important meal of the day, so make it a good one.
Arouse your senses with the rich aromas of the Middle East, and let the Doc's perfect blend of spices including cumin, pepper and paprika take your taste buds on a ride of pure aromatic flavours. Cumin is high in iron and vitamin c which can assist the straighten your body's ability to fight infection and help keep your organs healthy. Tumeric contains a compound called churchmen which has been said to be an effective an anti inflammatory.
This exotic breakfast will help drop your fat and keep you feeling fuller for longer.
Smoked Salmon, Spinach and Caper Omelette
Or if you prefer, you can have your eggs a la omelette. Smoked salmon is a very good source of protein, vitamin B12 and selenium. It's incredibly easy to replicate – and is incredibly delicious for a weekday breakfast – just add eggs and spinach and you'll have all the energy you need to power through the morning.
Eggs are high in protein to help support weight loss, healthy metabolism  and maintain lean muscle. They also contain essential amino acids needed for your body's growth and repair.
Zucchini & Carrot Fritters with Tomato Chutney
Zucchinis and carrots assist in aiding digestion, which is why these gluten and dairy free fritters are a perfect addition to your day. Served with aromatic herbs and tomato chutney, these are definitely one of our favourites.
The Doc's signature ingredient in many of the gluten free and dairy free menus is zucchini! It's a great replacement of heavy starches like pasta, leaves room for some good calories, tastes great and is good for you!  
There are numerous benefits to integrating zucchini in your diet. It's rich in fibre and packed full of vitamins A & C, zucchini can assist with increasing the body's immunity and keeping your skin hydrated. It also packs a healthy punch of magnesium, which regulates calcium levels (important for strong bones) and helps to promote the secretion of insulin.
Lemon Sunflower and Pepitas Chicken Salad
This incredibly fresh and purely delicious salad is packed with protein to help repair and grow your muscles and keep you satisfied for longer. Pepitas are a nutritional powerhouse for your body. They're a good source of protein, vitamin K and iron.
To find out more about food intolerances, make an appointment with the Doc, or visit our website to try our dairy free and gluten-free-meal-delivery today.
#thanksdoc
The post Our top 4 picks from the Doc's gluten and dairy free menus appeared first on The Doctor's Kitchen Australia.