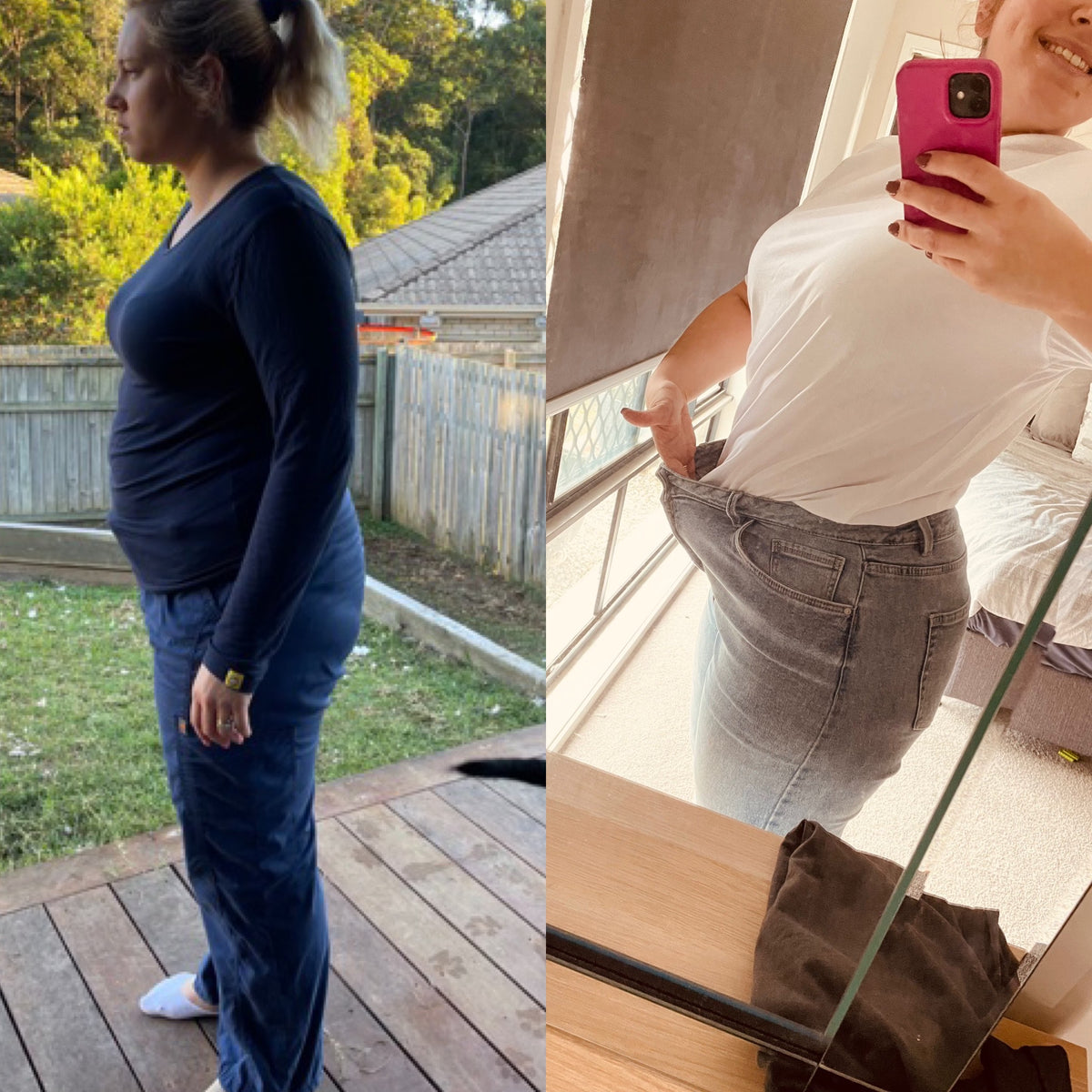 After sticking to the 1200 calorie Doctor prescribed meals, Bianca mother-of-three has since managed to lose 6.1kgs in SIX weeks and shares her incredible transformation. 
The 33 year old decided to try the Doctor's prescribed weight loss meals which are calorie and portion controlled to her based on her body composition with the Doctor
She was becoming increasingly unhappy with how she looked and felt
She quickly saw a change in her body and her clothes are so loose that some of them don't fit her any more
This Brisbane mother is determined to stay on the program for another 6 weeks
Mother-of-three Bianca Nicholson can now fit into clothes for the first time since she wore them years ago after losing 6.1kilograms in SIX weeks.
The 33 year old from Brisbane tipped the scales at 107.9kilograms when she decided she wanted to change and get healthy for the sake of her children.
In just under six weeks, the 33-year-old lost over 6 kilos.

Bianca said she credits the calorie controlled meals from Australia's leading weight loss program The Doctor's Kitchen Australia and fortnightly check ins with the Doctor for shifting the stubborn fat (pictured before and after)
There are loads of diet plans on the market, but few are Doctor-led, simple (and delicious) as that offered by The Doctor's Kitchen Australia. The Doctor's prescribed weight loss meal program is designed to help keep the weight off and offers a huge range of fresh and nutritious meals  that will help you reduce your calorie intake - AND it will help you to feel full.
At the initial consultation using your body composition results, the prescribing Doctor recommends a daily calorie intake personalised to you to begin the weight loss meals. This Doctor led approach accelerates fat loss and helps keep the weight off by showing you the type of tissue you are losing as you lose and instilling a consistent routine that changes habits.
A mother-of-four revealed how she ditched her belly fat and lost 6kgs within six weeks by following the Doctor's prescription of 1200 calories each day (pictured before and after)
After checking in with the Doctor, Bianca began eating the 1200 calorie prescribed meals after becoming increasingly unhappy with how she looked and felt. "I knew I was getting bigger and I just wanted to lose weight to feel healthy and happy again," Bianca explained.
After sticking to prescribed meals and fortnightly check ins with the Doctor, Bianca has since dropped 6.1kgs after just six weeks. "Checking in with the Doctor every fortnight has been the key to keeping me on track," Bianca said.
With a detailed body composition report given to you at each fortnightly follow up and the Doctor's health tracker APP the aim is to help you lose fat and not muscle (the higher the lean muscle mass the higher the number of calories the body burns at rest). "I have gained muscle and my clothes are so loose that some of them don't even fit me anymore," Bianca said.
Since discovering the Doctor's prescribed weight loss meal plan, she hasn't looked back. Bianca explained, "before turning to the Doctors Kitchen for help I felt really uncomfortable nothing fitted me and I was needing to buy larger clothes." Bianca also struggled to get herself into a proper routine. 
"After seeing the Doctor, I ordered the 1200 calorie meals straight away. It's the best thing I've ever done. I managed to get my weight down to 101kgs which was a huge milestone for me," Bianca said.
Of the tasty Doctor's prescribed meals on offer, on the 1200 calorie meal plan, Bianca enjoyed the Strawberry-Dragonfruit Smoothie for breakfast, Chicken Katsu Curry for lunch and Cranberry Roast Chicken & Pumpkin Mash for dinner.
A day on a plate thanks to the Doctor's Kitchen freshly delivered calorie controlled weight loss meals.
"It genuinely has changed my life", Bianca said. "It's got me to a healthier weight range for the first time in years."
I've gained so much confidence and everyone has noticed the positive changes in me since starting the plan – it's the best decision I've made." Bianca is feeling better than ever, and has lost 8.4 cm smaller around her hips.
Bianca originally heard about the Doctors Kitchen program on the radio and feels lucky to experience the amazing results from the program herself.
Doctor Phillip Wuth, Australian Doctor and Founder of The Doctor's Kitchen Australia explained that, one of the "major hurdles faced by patients to follow a consistent routine are now minimised by providing calorie-controlled meals which are personalised to the individual."
Five days of prescribed meals are delivered each week according to the Doctor's prescription enabling you to simply and reliably achieve your calorie intake per day, while also learning about portion sizes and food choices. "I love that the prescribed meals are 5 days a week because my weekends are often filled with many activities with my family," Bianca explained. On the 2 days without the Doctor's meals, Bianca puts into practice what she has been seeing, eating and living during the week and is now more conscious of portion sizes and making better food choices.
After losing over 6kgs, Bianca is determined to continue the Doctor's program for another six weeks and can't wait to see her transformation after this time.
The Doctor's Kitchen offers a personalised program that will give you the confidence to achieve your body goals. No matter what you weigh or whether your metabolism is fast or slow, you can lose weight if you know what to do. New research has found that knowing your body composition can be can be the key to losing weight — and keeping it off.
Plus now, if you are a CUA Health Insurance member, you may be eligible to claim anywhere between $100 and $300 back if you've started The Doctor's Kitchen prescribed weight-loss meal program.
Kick start your own weight loss journey with ready to eat calorie controlled meals made fresh and delivered to you. Delivered Australia wide you can find out more by visiting www.thedoctorskitchen.com.au or clicking here.