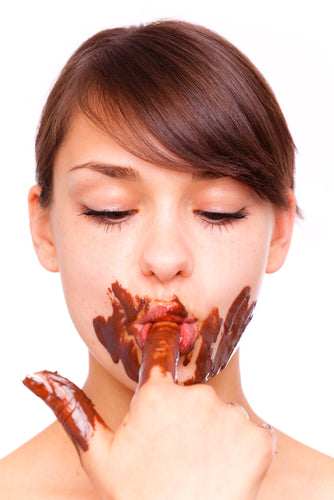 How to manage an Easter blowout: the Doctor reveals his tips for rebooting your metabolism after the long weekend - and how you can get back on track fast - PLUS an easy Doctor approved recipe to try at home!
Extra indulgences over the Easter break can see you put on up to two kilograms
People commonly blowout for days on rich food, extra chocolate and alcohol
The Doc shares 3 tips as to how to reboot your health
Celebrating over the four day Easter break can mean countless food indulgences. 
And, while enjoying an array of extra treats is par for the course, doing so over this period can see you put on up to two kilograms according to the experts.
If your diet has taken a back seat and you've lost your motivation to hit the gym after an Easter blowout, there are three some simple ways to reset according to the Doc!
After an indulgent Easter break, make eating well a priority.
1. Don't put it off - start now, not tomorrow
The worst thing you can do if you've been overindulging and have gained extra weight is to delay. Don't wait for tomorrow, next Monday or next month to put your plan into action, now!
Instead, start with your next meal or to give you a little doc-spiration you can take a look at the fresh and healthy selection of ready made Doctor approved meals. These are portion and calorie controlled to take the stress out of cooking especially for busy people who are time poor but are wanting to lose weight.
Start now by making an appointment with your nearest local prescribing Doctor to accelerate your weight loss success. Rather than tracking your health through tape measures and ordinary scales, the Doctor's prescribed weight loss meal program measures your individual biometrics and body composition and guides the Doctor to recommend a personalised calorie weight loss meal plan that will see you shed those unwanted Easter treats!
It sounds simple but making an immediate plan and acting on it now, the better the chance you'll be to reaching your fat-loss goals.
Doc tip: Get rid of the Easter treats! One of the biggest issues when it comes to big celebrations is that the eating goes on for weeks after the actual event. So, once Easter is over get rid of it to help you resist any temptation!
2. Plan your meals
They say 'failing to plan is planning to fail' and that is definitely true when it comes to food. You'll be more likely to be tempted by quick and easy high calorie foods if you're not organised, says Dr Philip Wuth, Brisbane based GP and Founder of The Doctor's Kitchen Australia.
Planning your meals for the week ahead can help change the way you eat and be the key to achieving your weight loss goals.
Research shows that meal prepping can be beneficial for those trying to keep their weight under control because the meals and portions sizes are prepared without you having to think about it.
The Doctor's Kitchen Australia provides a fresh and healthy selection of Doctor approved meals that are portion and calorie controlled as well as calorie specific meal plans to take the stress out of cooking especially for busy people who are time poor but are wanting to lose weight.
Try one of the Doc's healthy and nutritious lunch options:
 Balsamic Chicken with Roast Pumpkin & Feta - 274 calories

The Doc's 

Vietnamese Chicken with Lemongrass Sauce

- 348 calories

The Doc's Chicken Caesar Power Bowl - 321 calories
How to make the Doc's Turkey San Choy Bao for lunch - 304 calorie per serve
3. Look at the big picture! 
The worst thing you can do if you've been overindulging and have gained extra weight is to go into panic mode. It's easy to forget to look at the big picture and realise that weight loss requires a decrease in calories over time. Chances are you'll have good days and bad days, and slipping up once in a while isn't that big of a deal. Just don't let a few extra kilos become a bigger problem. If you've put on weight during a holiday, or your healthy eating has just slipped a little over the Easter break, consistency is the key, says Dr Wuth.
The only way to lose weight is to consistently consume fewer calories than you burn - the bigger your calorie deficit the faster you'll lose weight, but dropping too many calories is counter-productive.
Why? If you're in extreme calorie deficit you'll be constantly hungry and more importantly, you could be losing your muscle. This will do you more harm than good in the long run as your body will burn muscle to provide energy, and this loss of muscle can have significant impact of your metabolism and your overall health. Checking in with a Doctor will give you a personalised calorie intake to help with muscle health, and balance this with keeping you in calorie deficit and losing weight – not always an easy task but that's what the expert Doctors are there for! 
Consistency is what makes or breaks your transformation challenge. And the best way to achieve consistency is to take a moment to get some perspective by pausing, resetting and getting yourself back on track. 
What are the Doc's tips for rebooting after a blowout?
* Clear the home of indulgent treats and go on a healthy shop to make sure the pantry and fridge are stocked with fresh food
* Aim to make sure you prepare your meals in advance to help change the way you eat and make your habits stick
* Being consistent with your transformation will make your weight loss a success in the long term!