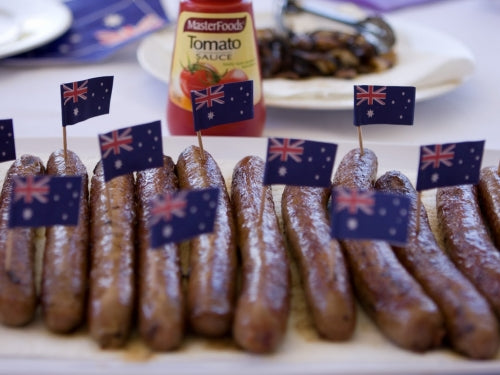 Australia Day is right around the corner; and that can only mean one (okay, several) things. Sun, surf, sand, a game of cricket and of course, a traditional BBQ feast. Typically this includes a steady rotation of sangas and burgers but this year The Doc is challenging you to step up your BBQ, and your health, game with these quick and easy healthy-australia-day-recipes we just know you'll love!
For the Meat Lovers
Garlic and Rosemary BBQ Lamb
Ingredients:
1 Leg of Lamb (butterflied)
6 Garlic Cloves
6 Rosemary Sprigs
2 Tbsp. Olive Oil
Salt and Pepper
Method:
1. Preheat BBQ grill.
2. Using a knife, poke slices of garlic into the meat.
3. Strip rosemary leaves off and place into a bowl with a pinch of salt, pepper and olive oil. Mix together and massage into the lamb on both sides.
4. Cook on each side for approximately 5 (medium rare) to 7 (well done) minutes.
5. Cover with foil and let rest for 10 minutes.
6. Slice and serve.
For the Meat Not So Much-er
Easy BBQ Zucchini
Ingredients:
6 Zucchini
1 Garlic Clove
3 Tsp. Salt
1 Tbsp. Oil
1 Tsp. Peppercorns
Method:
1. Cut ends off zucchini's, halve and score both sides.
2. Place all ingredients in a bag and shake vigorously. Sit for 10 minutes.
3. Cook zucchini on both sides and serve.
Doc Tip: Substitute zucchini for your favourite vegetable or add some haloumi and make a skewer!
For Those Who Love The Classics
BBQ Garlic, Lime and Chilli Prawns
Ingredients:
2kg Large Prawns
100g Butter
2 Garlic Cloves, finely chopped
2 Limes
1 Long Red Chilli, finely chopped
2 Tbsp. Flat Leaf Parsley, finely chopped
30 Bamboo Skewers
50g Aioli
Method:
1. Remove head and legs of prawns and devein.
2. Skewer each prawn to straighten it out before splitting the meat with a knife to butterfly.
3. Melt butter in a saucepan over low heat. Once melted, remove from the heat and mix in garlic, lime juice and zest, chilli and parsley. Drizzle this mixture over the prawns and season with salt and pepper.
4. With BBQ on high heat cook prawns on their backs for 3-5 minutes then turn and cook until the flesh has just cooked through.
5. Serve with extra lime wedges and aioli.
Doc Tip: To save time skip the skewer and BBQ prawns as is!
For The Friend Who Would Prefer A Salad
Avocado Lentil-icious Salad
Ingredients:
2 Avocado's, chopped
1 Can Lentils
1 Small Onion, chopped
1 Punnet Cherry Tomatoes, chopped
A Handful of Your Favourite Herbs
1/2 Cup Crumbled Fetta Cheese
Pepper to taste
Your favourite dressing
Method:
1. Rinse lentils under cold water and put into a salad bowl.
2. Add avocado and other ingredients to lentils.
3. Top with dressing and season to taste.
4. Cool in fridge and serve when ready.
For Some Added Flavour
Honey Mustard Dipping Sauce

Ingredients:
Makes 1 cup of sauce.
3 Egg Yolks
1 Tbsp. White Wine
125g Butter
2 Tsp. Wholegrain Mustard
1, 1/2 Tsp. Honey
Method:
1. Combine egg yolks and wine in a small food processor and pulse well to combine.
2. Melt butter in a saucepan until very hot. With the motor running add the butter to the processor in a slow, steady stream.
3. Add mustard and honey and blend briefly to combine.
4. Serve warm or cold as a dipping sauce with prawns or seafood.
For Those With A Thirst to Quench
Watermelon Spritz
Ingredients:
3kg Watermelon
6 Limes, quartered
300mL Chilled Vodka
1L Soda Water
10 Sprigs of Mint
30 Pitted Olives
100g Fetta, cubed
Ice
Method:
1. Scoop watermelon into a blender, blend for 30-40 seconds until liquid.
2. Squeeze 5, 1/2 limes into a large jug. Top with the watermelon juice and give it a good stir. Place in the fridge until the guests arrive. Chill glasses.
3. Just before serving, run the remaining lime quarters around the rim of each chilled glass. Add the vodka to the watermelon juice and stir. Fill each glass with ice and top with liquid.
4. Garnish with a little plume of mint and a skewer of olives and two cubes of fetta.
For Dessert
Grilled Pineapple with Coconut Sorbet
Ingredients:
Vegetable oil
2 Tbsp. Honey
1 Cup Coconut Sorbet
1 Pineapple, peeled, cut crosswise into 4 thick slices and cored
1/8 Tsp. Cayenne Pepper
1/4 Cup Fresh Mint Leaves
Method:
1. Heat grill to medium and lightly oil. In a bowl toss pineapple with honey and cayenne.
2. Grill for 10-15 minutes or until light brown grill marks appear, turning once.
3. Serve pineapple with sorbet and garnish with mint.
We know that healthy eating can be a struggle, especially on holidays or celebrations like Australia Day! It can be hard to know where to begin. If you need a helping hand or a nudge in the right direction The Doctor's Kitchen provides you with nutritional, delicious meals and menus that can aid you on your path to wellness; whether you want to lose weight, maintain weight, or bulk up. You can book in with one of our Docs at our HQ at Carina. Or now, at the Rosalie Milton Clinic, to get started on the Doc's weight loss meals.
The Doctor's Kitchen and our doctors service all Brisbane, Gold Coast, Sunshine Coast, and Toowoomba areas.
Image source, Image source, Image source
The post How To Have The Best BBQ On The Block: Healthy-Australia-Day-Recipes appeared first on The Doctor's Kitchen Australia.