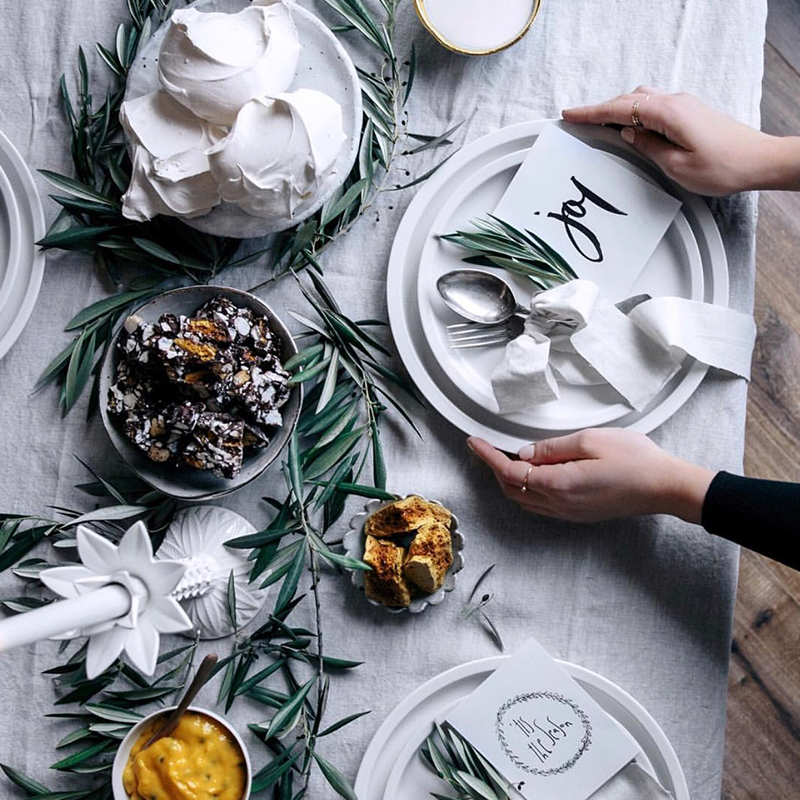 Christmas is almost upon us! For many this means dinner parties, indulging in more alcoholic beverages than usual (or necessary), and treating yourself in the name of 'holiday spirit'. However, just because we are taking some much needed time to relax, and spend time with family, doesn't mean we have to let our health fall to the wayside. This week The Doc has rounded up a few of the best tips on how to get the most out of your holidays AND your health this Christmas, and survive-the-holiday-season.
Work It Out
That's right. In between those booze-y brunches and bottomless cocktails, be sure to get your blood pumping! We're sure we don't have to tell you about the amazing benefits of regular exercise. Endorphins, increased energy, and a boost to your metabolism are just us naming a few. Whether you're a yoga aficionado or a 5k run is more your style; getting moving will do your body, and your mind a world of good.
Doc Tip: Kick off your day with a workout first thing keeps you active and engaged with your day. And, as an added bonus you'll have more time to spend with family and friends throughout the day.
Plus by working out in the morning you get it out of the way and avoid making excuses or facing distractions later in the day that can prevent you from making those muscles burn.
Make Your Meals Super
Contrary to popular belief, Christmas doesn't have to be all bad on the nutrition front. Granted, it's not the easiest time to embrace healthier foods especially with an abundance of chocolates and other treats readily available; but it might just be easier than you think!
There are an abundance of traditional Christmas superfoods that bring flavour and health benefits to your holiday feast – and they are ones that the whole family will enjoy. Think brussel sprouts, turkey, prawns and pumpkin to name just a few.
Brussel sprouts get a bad rep but they truly shine at Christmas! Loaded full of fibre, vitamin C, and potassium they help keep our immune systems running smoothly. Also on the veggie front, pumpkin is a wonderful food to add to your feast. It's rich in fibre and packed with beta-carotene which is great for eye health!
Not to worry, you can also do meat in style (and health) over the Christmas season. Turkey is a good source of protein, vitamins (B6 AND B12 to be exact) and is low in saturated fat sans skin. You'll also be glad to know that the Australian Christmas classic – prawns – are also low in fat and provide our bodies with copper, zinc, and selenium (the mineral responsible for healthy hair and nails).
Doc Tip: Cut down on butter, salt and other unnecessary extras! Flavours can be enhanced with herbs and spices instead. If you do need an additional hit of flavour try reaching for the pepper or sprinkling nuts like almonds or cashews onto.
Water Is Your New Best Friend
Our bodies are composed of approximately 60 percent water. So it's no wonder that drinking water is essential to your health. It is effectively a nutrient that your body needs to keep performing at its best, revive you, and flush out any nasty toxins. As well as keeping our skin looking amazing, and helping to dissolve minerals and nutrients to make them more accessible to our body.
When your water intake does not equal your output you become hydrated. This can happen more easily (and more often) than you think as our bodies lose water every day through sweating, urinating, and even breathing! On top of a nasty headache, being dehydrated can also mean that your physical and mental performance suffers!
Doc Tip: Drinking water will help to stave off the dreaded Christmas hangover, and help you start the new year in style. Over the Christmas period try and have a glass of water with every snack and meal. You can infuse them with fruits and vegetables for a fancy flavour hit. Eating more fruits and veggies with high water content will also keep you hydrated.
Check In, Don't Check Out
The holiday season is meant to be one of laughter, family, and giving; but sometimes it can get the best of you with stress, family troubles and money worries. For that reason it's important to check in – with family and friends, but most importantly with yourself.
Don't overdo it! Lack of sleep, or doing too much can create tension and stress. Remember to schedule in some 'me' time and be kind to yourself.
Christmas is also the perfect time to tune in to what you are wanting and needing from the coming year; as well as providing the perfect excuse to get away, relax, unwind, and enjoy the moment. It can be amazing to reflect on the past year and see just how far you've come.
Doc Tip: Find relaxation techniques like practising yoga or mediation or even a morning walk that work for you so you can relax among the chaos of Christmas.
If you find you have over indulged this Christmas, The Doctor's Kitchen can set you back on the path of health with an outstanding range of purely delicious, wholesome meals and menus that are tailored to your needs. The Doctor's Kitchen and our doctors service all Brisbane, Gold Coast, Sunshine Coast, and Toowoomba areas.
Image source, Image source, Image source
The post Here's How To Survive-The-Holiday-Season appeared first on The Doctor's Kitchen Australia.