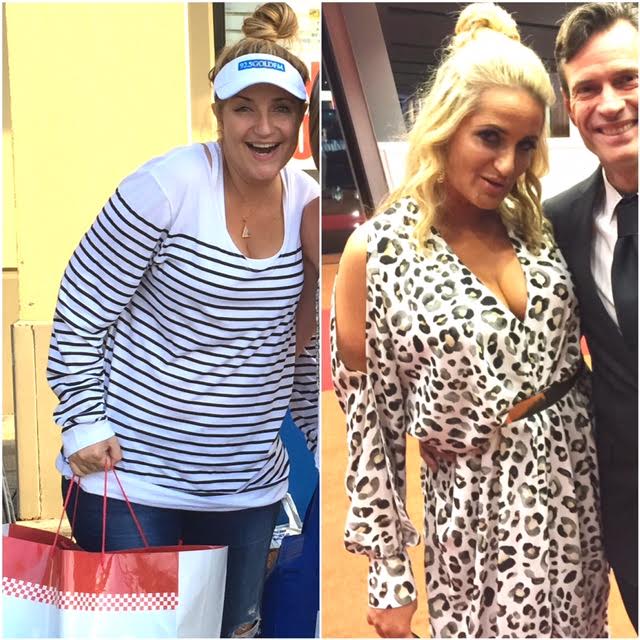 The Queen B of radio, Bianca-Dye started her Doctor's Kitchen journey with the Doc's gluten and dairy free menu and at 1000 cal per day for 12 weeks. Bianca's goals were to lose fat + learn what portion she should be eating in order to maintain a healthy body and weight. Following her amazing transformation, she now loves the convenience of the Doc's incredibly delicious and full of goodness food and we are so proud of her phenomenal results.

Bianca-Dye took some time out of her busy schedule to share her experience and her amazing results with us.
In three words, describe your experience with The Doctor's Kitchen Australia.
Compassionate
Amazing
Results
What have you learned since beginning your journey with us?
The main thing I've learned is portion control and that I can eat really healthy food and really yummy food. I was mistaken before, because I thought all food had to be bland if it was going to make me lose weight. But, the food is so delicious! I actually crave it! I've learned it's really just about portion size and eating at the right time, as well as not snacking in between. Honestly, I've learned so much.
Has your attitude towards food and overall health changed?
My attitude to my health has totally changed. I've realised that I can eat healthy. But I can also have the occasional day where I can have a piece of cake at my friend's birthday party, or I can have a couple of champagnes, and I can still lose weight as long as I just keep eating the food that The Doctor's Kitchen provides. It just makes it so much easier for me to not have to think about food. I'm too busy to be thinking about food and calorie counting and weighing ingredients. I love that you guys take all the hard work out of it. Life's too busy!
What would you say to someone who was considering joining The Doctor's Kitchen Australia?
I would say definitely do it. It's sustainable – because there's only 5 days of food and the other 2 days are for you to put into practice what you've been seeing, eating and living on the previous 5. You can do it forever, or you can do it for a little while and just learn how to eat well. You'll learn to understand the portion sizes, and you can follow the recipes and make your own food once you've learned what you need to eat and, how much of it (which is really the essence of what the Doc has taught me). I think it's a great thing to do, especially when you're particularly busy like me. Also you can freeze the food so nothing goes to waste. For instance, if you know you're eating dinner out three nights this week, just put them in the freezer for next week. Make sure you're choosing the healthy option when you eat out though!
What's your favourite Doctor's Kitchen meal?
My favourite meal is the Zucchini Linguini with Bolognaise. I absolutely love it. I love the fact that you can have bolognaise without the pasta. Honestly I could eat that one every night of the week. It's my favourite and it's delicious! I can't eat pasta but I love the idea of spaghetti bolognaise – it's always been one of my favourite dishes. When I eat pasta I feel really bloated and it just doesn't agree with me so this is perfect.
Bianca-Dye loves the Doc's Zucchini Linguini with Bolognaise is available on the Week 4, Healthy Balance, Gluten Free, Dairy Free menu and the beef is substituted for lentils in the Vegan, Vegetarian and Pescatarian menu. 
Do you think that the Doc's menus are easy enough to replicate on the weekends?
I think if you're eating The Doctor's Kitchen meals Monday to Friday, it's really easy to replicate the meals on the weekend. Now that I've learned what portion size I should be eating and the types of ingredients I can be using, portion control on weekends is easy – you can do it in advance. You can basically cook up all your meals for the weekend in one go so you don't even have to think about it. Sometimes, cooking is fun and it's a great thing to do with the family but we don't always have time to do that, so The Doctor's Kitchen has been really great for that.
How is The Doctor's Kitchen experience different to things you've tried before?
The Doctor's Kitchen experience is different to other things I've done. I enjoyed doing a three day cleanse, but by the third day I suffered. I really needed food. I found with The Doctor's Kitchen that after just a few weeks I had shed that doona cover of fat over my body, just because I was simply eating proper portion sizes; I was eating healthy food; and the 1,000 calories were already planned out for me. Plus, all my meals were gluten and dairy free – which is really hard to come by. You just can't go wrong. You guys take the thinking out of it. And for me, at this stage in my life – about to start breakfast radio – I'm so busy I can't even think about it. These guys are lifesavers.
Do you feel like your moods have changed since starting The Doctor's Kitchen?
Yes. I think eating the right food definitely changes your mood and helps your mental health. I'm a huge advocate for mental health awareness. I actually have an anxiety disorder and I know that when I cut back the grog and when I eat the food you guys provide, my anxiety definitely goes down. It just has to. It's the law of nature that when you're eating healthy, portion controlled, fresh food, it just makes sense that mentally you start to feel better. Always. And I always know that when my anxiety's up, it means I've been eating unhealthy food, and when it's up I've been treating my body right.
The post Bianca-Dye: The Queen B of Radio did it with the Doc appeared first on The Doctor's Kitchen Australia.