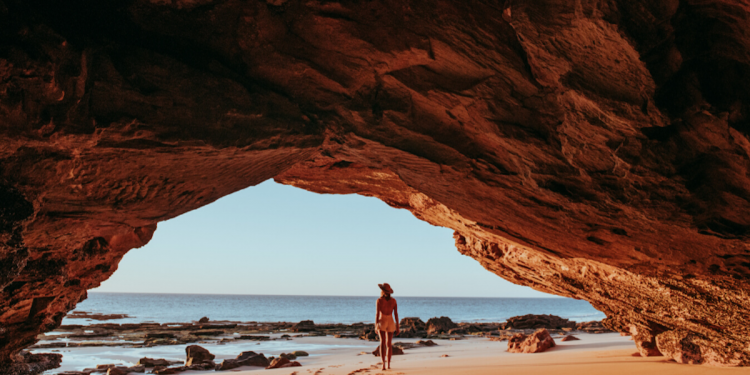 THERE'S NO PLACE LIKE HOME. THESE INCREDIBLE RETREATS ARE THE PERFECT WAY TO CONNECT WITH OUR ICONIC LANDSCAPE. AND RECONNECT WITH YOURSELF.
Given the travel restrictions of COVID times and impending Easter break, the Doc is sharing some of the most remarkable destinations our home has to offer and we're sure that after discovering them, it will be impossible not to feel genuinely blessed! 
In a spirit of gratitude and appreciation, here are five eco-friendly destinations that could only be in Australia. Places we feel grateful to have at our door, discover and allow us to re-connect with ourselves. From deep bush experiences, to wild beach getaways – and some that combine the two – these soul-enriching getaways treat our land like the treasure it is. And, give us their own ways to honour and commune with it.
Cockatoo Hill Retreat, Queensland
There is something spectacular about the vibe of a rain forest. The cool temperature, waterfalls and the abundance of life creates a feeling all its own. The Cockatoo Hill Retreat places you in the thick of it. Imagine your own private tree house floating above the canopy of the Daintree Rainforest, your private balcony looking out to the Coral Sea, home of our own Great Barrier Reef.  It's the only place in the world with two World Heritage treasures side by side at your doorstep. Simply breathtaking and the ultimate Daintree getaway.
Paperbark Camp, NSW
A handful of beautifully appointed canvas safari-style tents nestled among the eucalyptus and paperbarks, gum and mangrove forests of Jervis Bay, Paperbark Camp is a true hidden gem and an eco-tourism pioneer. The retreat is surrounded by a unique cluster of remarkable national parks, meaning an abundance to explore and absorb. And it's within easy reach of Hyams Beach and "the whitest sand in the world" for those perfect lazy summer days.
Twelve Apostles Lodge Walk, Victoria
Less a place, and more an experience, the Twelve Apostles Lodge is a luxury base camp for trekking Victoria's Great Ocean Walk. Join a group of 10 friends or strangers exploring some of Australia's most beautiful and dramatic coastal byways on foot with a knowledgeable eco-guide sharing snippets about flora, shipwrecks or the rock shelf where dinosaurs roamed. Return to the soothing foot bath at the lodge the end of each walk as well as enjoying a well-earned refreshment in the healing tranquillity of the surrounding forest.
Dirk Hartog Island Lodge, Western Australia
Stark and remote Dirk Hartog Island is a windswept beauty and an important historical oddity. The first piece of the continent "discovered" by Europeans, it is also the last place the sun sets in Australia. With impeccable eco credentials, the Dirk Hartog Island Eco Resort is a magnet for true adventurers perched at the precipice of the Indian Ocean. A genuinely unique destination in a country of unique destinations!
Freycinet Resort, Coastal Pavilions, Tasmania
With its spectacular mountains, forests and bays Tasmania is an uncut gem of nature at her most dramatic. The exclusive Freycinet Resort uniquely allows you to experience it all. Luxury chalets and coastal cubbies (as pictured) emerge from the protected forest of Mount Paul to offer the lucky traveller inspirational 360 degree views of The Hazards, Oyster Bay, the Friendly Beaches and the shifting moods of Tasman Sea. 
Whether you're suffering from work-life burnout, an addiction to social media, or perhaps you're simply seeking to recharge and celebrate your weight loss success (with or without some high-frequency omming), these 5 retreats will remind you of how great it is to feel peaceful.