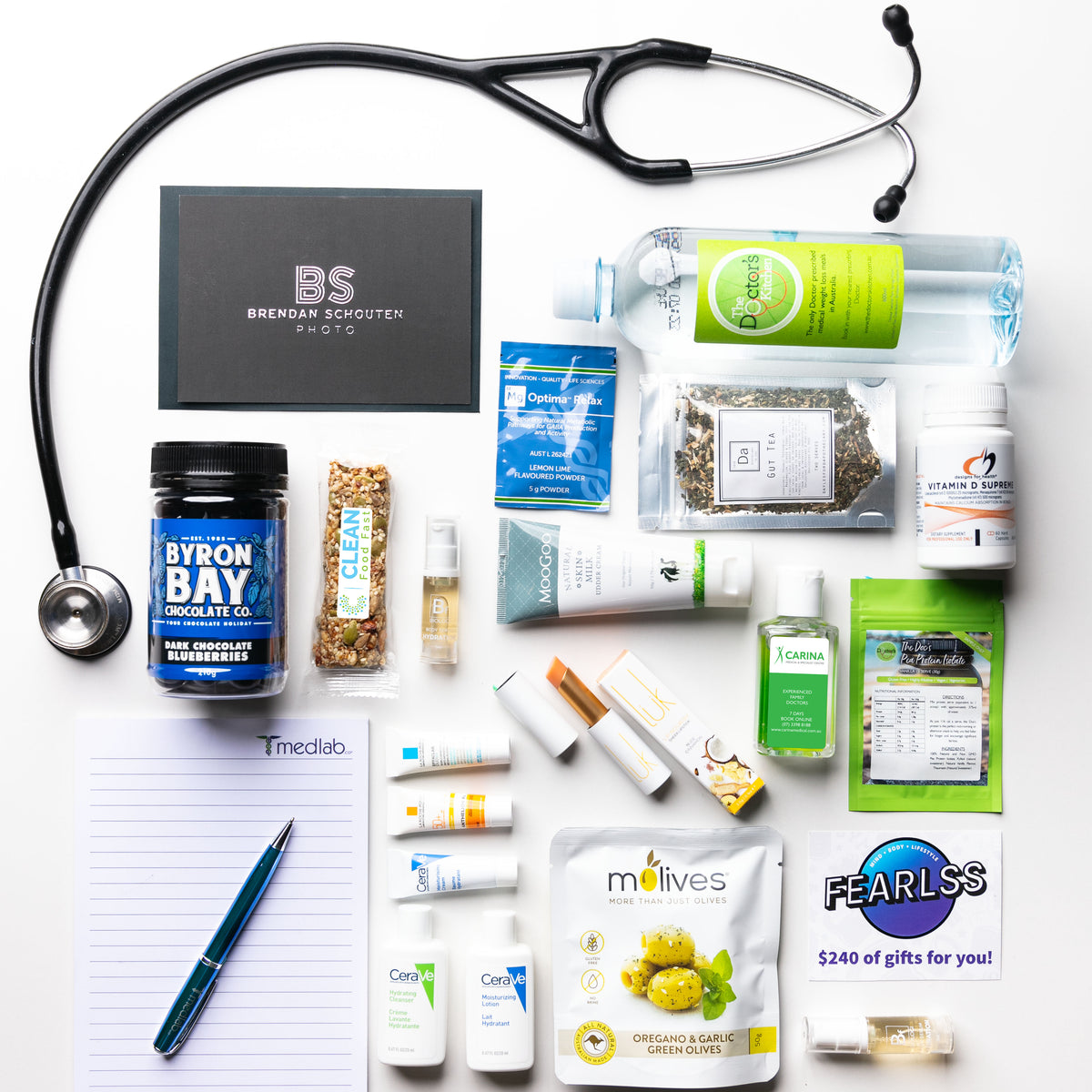 Take a peek at everything inside the exclusive Doctor Approved Gift Bag
A holistic and medicinal feeling of 'fab-ulous', thanks to the Doc!
With 'Flab-ulous to Fab-ulous' only days away, on Saturday, 27 July in Brisbane, the Doc's event preparation is fully underway – in particular, the exclusive Doctor Approved Gift Bags each guest will be taking home worth over $350 at the Brisbane event.
'Flab-ulous to Fab-ulous' will give you the latest tips and insights from a carefully curated team of preventative medical industry experts on the Doctor's approach to fat loss, optimising inner health, and re-boosting skin health and beauty for a holistic feeling of fabulous! In other words – want to learn how to lose weight and what is medically defined as feeling fabulous? This is for you!
This engaging event is hosted by radio presenter Abby Coleman and feature The Doctor's Kitchen Australia guru, Dr Phillip Wuth, The Compounding Lab's Mary-Lou Condon and The Functional Nurse, Madilyn Wolens. With a doctor, pharmacist and nurse dishing out the knowledge, you'll be set for an afternoon of health, beauty and wellness.
If you're heading to the Doc's 'Flab-ulous to Fab-ulous', take a peek below at what will be included for you to take home. And, if you're not yet, there are few tickets available.
Doc Recommendation: Run, don't walk, to www.eventbrite.com.au/ for final tickets.
What's inside the Doctor's Approved Gift Bag?
Attendees will leave with a holistic and medicinal Doctor Approved gift bag will include evidence based products that support overall health, wellness and skin beauty including a Biologi Hydration Body Serum, Luk Beautifood Lip Nourish, MooGoo Natural Skin Milk, Designs for Health Vitamin D, The Doctor's Kitchen Australia's branded bottle of Natural Mineral Water, The Doctor's Kitchen Australia Protein, Daylesford Apothecary Organic Gut Tea, Clean Nutritionals Clean Food Fast Nut Bar, Byron Bay Chocolate Company Dark Chocolates, Medlab Mg Optima Relax Sachet - Magnesium Deficiency and Stress, Carina Medical & Specialist Centre Hand Sanitiser, La Roche-Posay Skin Correction & Hydration and Ultra Light Fluid Sunscreen, Cerave Hydrating Cleanser, Moisturising Lotion and Moisturising Cream, and MOlives Gourmet Olives.
But there's more: You'll also take home a $100 Voucher for Brendan Schouten Photography and $240 Voucher for Fearlss Fitness Personal Training for Strength & Fat Loss and a SmartClinics Brochure.
And lastly, a MedLab branded notebook, and pen to take notes with on the day!