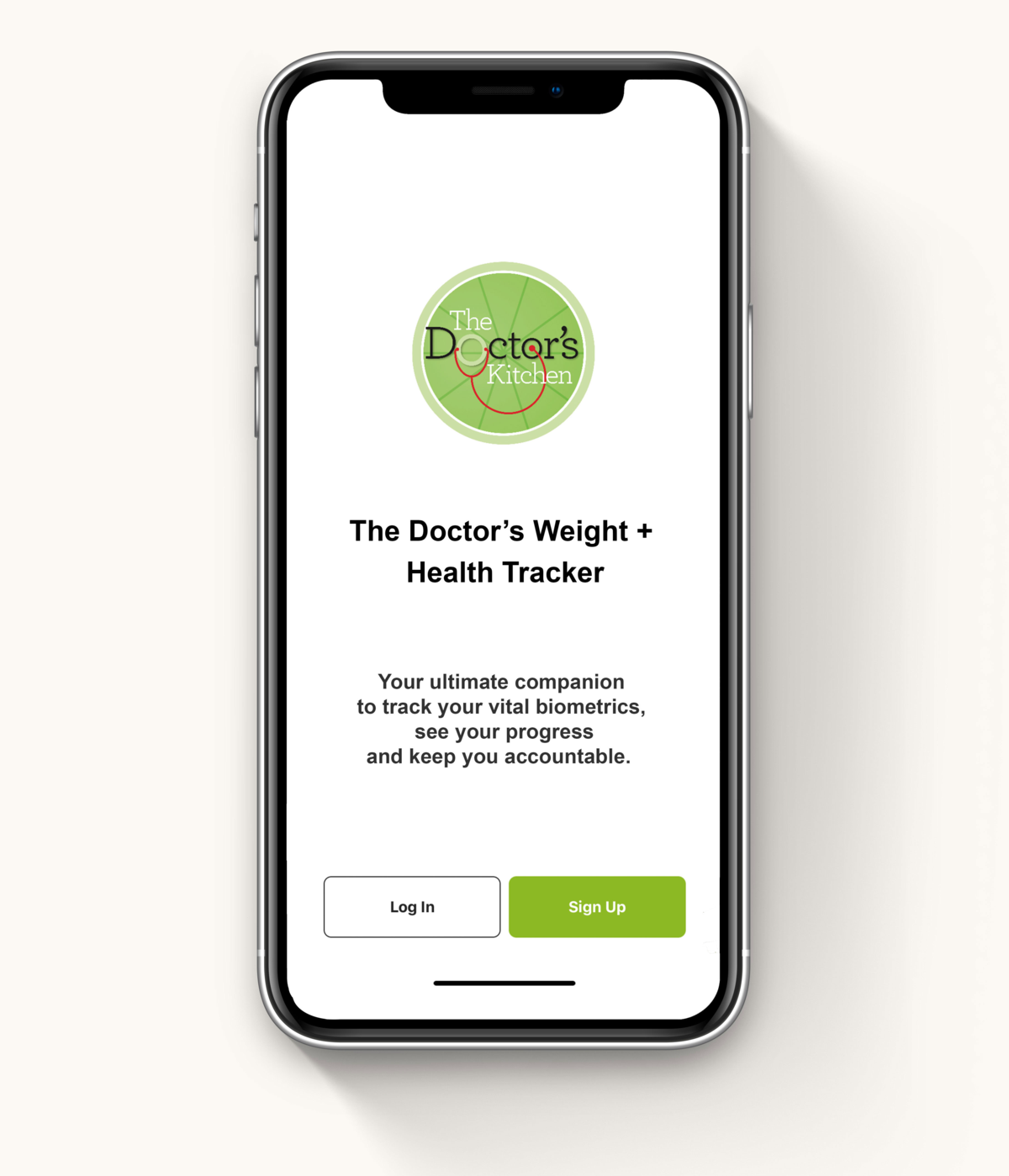 The Doc's mobile weight and health tracker APP can help slimmers lose weight and stay motivated on their health journey.
This can lead to greater health benefits over time and increased weight loss
Users take their measurements from body composition scales used by trained GPs to track weight, body fat, visceral fat, muscle mass, basal metabolic rate, and biological age. 
The Doctor's Kitchen Australia which offers Australia's only Doctor prescribed weight loss meal program offers a first of its kind APP giving Australians on a weight loss mission access to track their vital biometrics through graphs and photos at the touch of an iPhone.
The Doc's app can play a role in getting you motivated to exercise and become more aware of your wellbeing, says Dr Phillip Wuth, Australian Doctor and Founder of The Doctor's Kitchen Australia.
Users measure up with a trained Doctor using the body composition scales which provides a breakdown of their overall health which are then entered into the Doc's APP on their phone that allows them to constantly track their weight, body fat, visceral fat, muscle mass, basal metabolic rate (BMR) at rest and biological age. It's designed to instantly chart the changes in your body measurements against your goals with a dashboard summary of each measurement. This summary will help users understand their overall health, rather than just weight alone, see how far they've come and how far they've got to go.
The immediate visual evidence of weight loss and changes to their health will help motivate people to stay on track with their 6-week program.
Slimmers also check in with their trained GP every fortnightly during the course of the 6-week program.
The Doc's health and weight tracker which is accessible through a mobile app could help slimmers lose weight in just 6 weeks.

Users use body composition scales which they can enter their results on the Doc's app on their phone that allows them to constantly track their weight loss and health changes.
Throughout the 6-week program, people have access to healthy recipes, resistance training plan (for at home or outdoors) and weekly blog articles covering topics like meal planning, how to sleep better and how to overcome emotional eating.
So far GPs across the country have recommended the Doctor's weight loss program to countless of people who are overweight or whose weight puts them at risk of type two diabetes.
Research suggests that losing around 5% of body fat may help prevent the onset of type 2 diabetes and significantly reduce the risk of developing type 2 diabetes.
"Excess body fat is associated with significant risk of metabolic diseases like diabetes and heart disease. The Doctor's APP will help Australians better understand their overall health and see improvements to their individual body composition", said Australian Doctor and Founder of The Doctor's Kitchen Australia, Dr Phillip Wuth.
"We all know prevention is better than cure, and one way to help prevent illness is to keep tabs on key indicators of your health – weight, body fat, abdominal fat, muscle mass, metabolic age, BMR at rest", Dr Wuth said. 
Dr Wuth said: 'Using the Doc's APP makes it easier for people to form new habits that help them eat better and feel better.'

Mark, 32, from Brisbane, started the weight loss program with a Doctor after health checks revealed he had severe sleep apnoea and was pushing close to 113kgs. He lost nearly 30 kgs and has now reversed his condition. 
Mark who suffered from severe sleep apnoea had to use a CPAP machine every night to prevent waking up in a panic, gasping for breath. Mark lost nearly 30 kgs, reversed his condition and now sleeps soundly without having to rely on machinery thanks to his weight loss transformation with the Doctor's medical weight loss meals. You can watch his incredible story here.
"My Doctor would explain the changes that were happening to my body each week, encourage me to keep going, and be blunt with me when I needed it. Having the backing of a Doctor, I couldn't really go wrong", says Mark. 
Rather than tracking your health through tape measures and ordinary scales, progress is measured by prescribing GPs using body composition analysis to understand people's individual biometrics. Unlike ordinary scales that record only body weight, The Doctor's Kitchen prescribed program incorporates bio-impedance scales to measure additional data such as body fat, abdominal fat, muscle mass and basal metabolic rate.

New research has found that these are the numbers that matter, and can be the key to losing weight and keeping it off.
"The key is to eat fewer calories than you expend and monitor your vital stats like your body fat and muscle mass," Dr Wuth said.
The number of calories you need to eat per day depends on your body composition. This is why The Doctor's Kitchen recommends you check in with one of their prescribing Doctors to work out the number of calories you need to eat per day to lose weight.
People who exercise a lot need to eat more calories to fuel their efforts, and young people and children burn more energy, too.
If you eat more calories than you burn in a day, you will likely put on weight.
Eating fewer calories than you burn will help you lose weight.
Understanding your body's individual components and composition, rather than just weight alone, can drive important health outcomes, including whether you could be at risk for developing a serious health condition, and to help develop a personalised plan to accelerate your fat loss, get the weight off for good and improve your overall health.
To find out more about the Doctor's prescribed weight loss program and how you can get started click here.
You can start the Doctor approved weight loss meal plans now without seeing a Doctor, now delivered across Australia. Whether you are located in Sydney, Melbourne, Adelaide, Perth, Gold Coast, Newcastle, Canberra, Hobart, Darwin, you can take the first steps to looking and feeling even better.
Try the Doc's free APP available from the Apple APP store to help boost your health and stay on track.