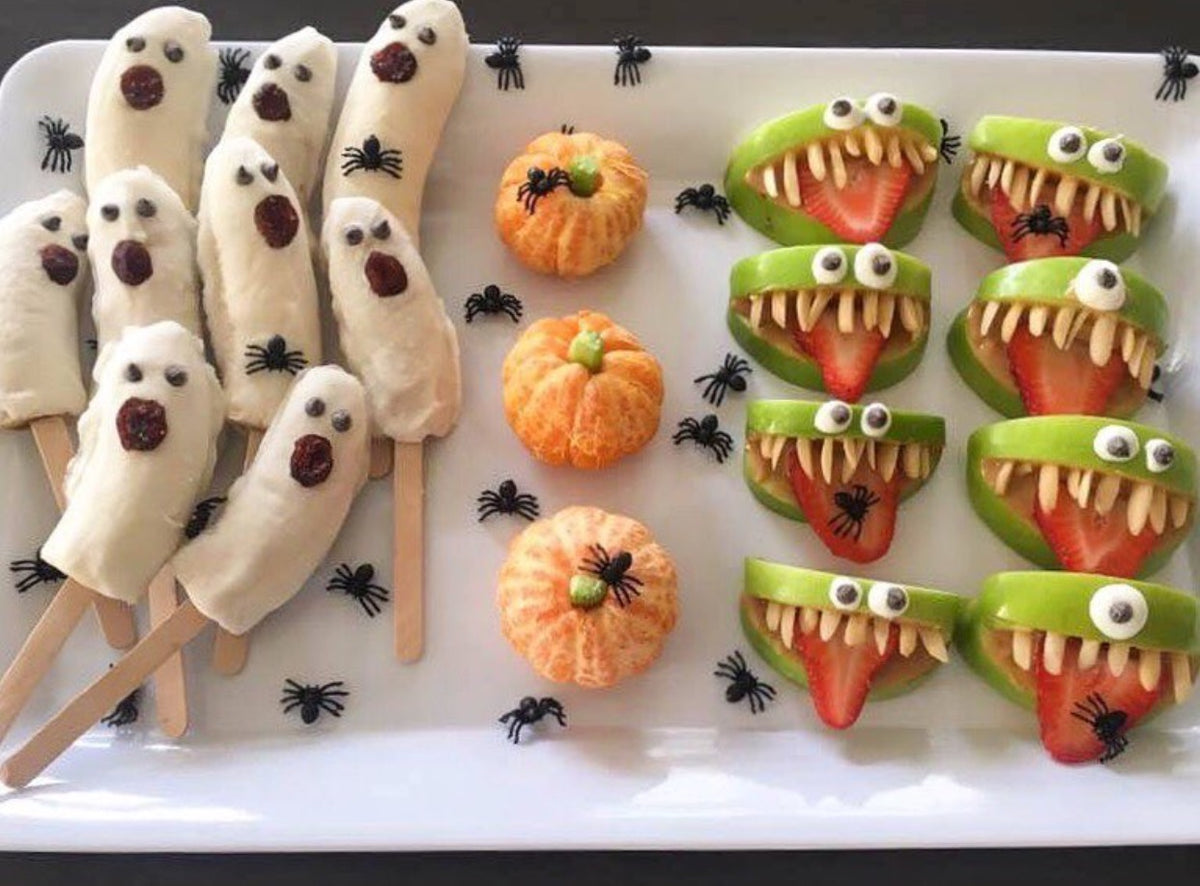 With Halloween just around the corner, you've probably started thinking about which costume to rent, which decorations to place, and no doubt as part of the growing tradition which lollies to buy. It might seem easy to pick up a packet of lollies from the grocery store, but it's definitely not the healthiest option.
Too much sugar can contribute to health problems such as obesity, diabetes and tooth decay. Additionally, high levels of saturated fats may increase your blood cholesterol levels and risk of heart disease.
We all know that too many sweets can be harmful to our health, so The Doctor's Kitchen has come up with three alternatives to lollies for a healthy-Halloween.
Fruit
Fruit is nature's candy. It's sweet enough to kick those sugar cravings but won't affect your health the same way processed lollies will. Why not try some boo-nanas with chia seeds for eyes and a sultana for the mouth, or mixed fruit skewers?
Photo source: @groundedcoach
Popcorn
Pop your own corn kernels on the stove for a healthy alternative to store bought popcorn. Try an air popped popcorn maker which pops the kernels without any oil.
Photo source: @fall_holiday_treats
Almond Bliss balls
Homemade bliss balls are a great substitute for processed treats because they're incredibly easy to make, purely delicious and full of goodness. Make sure to stick to fewer, unprocessed ingredients for a healthier treat.
Create your own combination, or try our recipe which features almonds as the signature ingredient.
Almonds are a very good source of vitamin E, an antioxidant that assists in protecting the body against free radicals as well as protein to maintain muscle and fibre for digestive health.
Almond Bliss Balls
330 g raw whole almonds
20 fresh dates, pitted
1 teaspoon or organic vanilla extract
1 tablespoon of sunflower seeds
1 tablespoon of cashews
1 tablespoon of brazil nuts
1 tablespoon of walnuts
1 tablespoon of pepitas
1/2 freshly squeezed orange juice
Throw almonds into the food processor until the mix looks crumbly.
Add dates, sunflower seeds, cashews, brazil nuts, pepitas, vanilla extract then process again until the mix starts to come together.
Add the juice of 1/2 orange if needed, so that mixture is soft and forms a soft ball.
Roll into decent sized bliss balls.
Enjoy your healthy-Halloween
The post 3 Healthier Alternatives to Halloween Candy appeared first on The Doctor's Kitchen Australia.